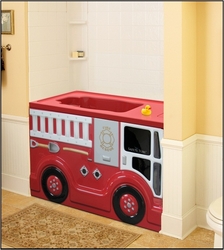 The door is the single most critical aspect of a walk-in bathtub,
Dallas, TX (PRWEB) April 14, 2010
Safety Tubs® for kids! This new patent pending product from Safety Tubs® transforms your ordinary bathtub into a safe, fun and water efficient unit. Great for kids, better for parents and the environment!
Safety Tubs® for kids is a perfect solution for bathing any small child, from infant all the way up to 70 pounds. Easy installation gives parents the freedom to bathe their children in comfort, while eliminating common bathroom hazards such as slips and falls, as well as injuries to parents caused by stooping and lifting over a traditional 60" bathtub. This temporary unit fits easily over existing tubs and is quickly removable when no longer needed. Constructed of durable and easy to maintain cast acrylic, the new Safety Tubs for kids offers designs for both boys and girls, and makes bath time a fun time for all. The unit comes complete with strong powder-coated steel frame that resists rust and corrosion, padded anchors to protect the existing tub, and a chrome hand shower with integral on/off switch that ties into existing plumbing. Accessories such as a changing pad and infant tub seat are available to compliment the tub. Prices start at $2,200 list.
New XL Tub— Safety Tubs® newest product, the acrylic XL helps address the needs of larger bathers who cannot bathe in a traditional tub. With it's generous 25" door opening and 27" wide seating area, the bariatric XL model offers maximum space and guarantees a comfortable, relaxing bath.
The XL can be outfitted with any of Safety Tubs® advanced hydrotherapy options such as the hydro-jet massage system with legs only massage and ozone self cleaning system, Five Star air massage with heated blower, or both systems together. In addition, the tub can be equipped with the exclusive, patent pending Minute Drain™ powered pump system that empties the tub up to 8x faster than conventional drains.
The 2010 Kitchen & Bath Industry Show also debuts the new worldwide patent pending T6 inward opening door system. The T6 door system technology works similar to the way an aircraft door opens and secures. The door swings inward, yet allows full access to the tub whether sitting or standing allowing those with mobility issues to bathe with ease.
"The door is the single most critical aspect of a walk-in bathtub," said Rob Buete, Chief Executive Officer of Safety Tubs® , LLC. "With the T6, we've created a worldwide patent pending system that is both watertight, and easy to enter and exit. It has the ease of an outward opening door, but the security of an inward door; it's really the best of both worlds."
Seated Safety Shower™ - For the first time, enjoy a safe and independent showering experience with the Safety Tubs® Seated Safety Shower™; the first seated shower built to meet the needs of many people including the elderly and disabled.
This 60" x 30" x 37" acrylic seated shower comes with a multitude of ground-breaking features: highly durable and luxurious cast acrylic construction; wide, contoured, full-sized seating area with recessed front to make standing or sitting easy; an accessory ledge for personal items; and a built-in armrest to help you relax and enjoy your shower experience. The Seated Safety Shower™ also features a low 3" threshold and a built-in wrap-around grab bar that allows you to always feel safe and confident, no matter if you're standing, sitting, entering or exiting.
Available in white or biscuit acrylic and left or right hand configurations, it can be completed with a traditional shower curtain or shower doors to match the look and feel of your current bathroom décor.
About Safety Tubs, LLC
Safety Tubs® the original manufacturer and inventor of acrylic walk-in bathtubs is headquartered in Dallas, TX. Safety Tubs pioneered the manufacturing process for acrylic walk-in bathtubs with built in 17-inch chair height seats. For more information on Safety Tubs, visit http://www.safetytubs.com or call the toll free line at (877) 304-2800.
###