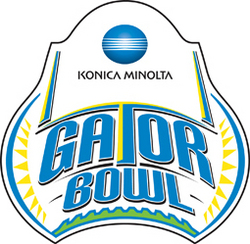 We are honored and proud to represent the Big East Conference in the 2010 Konica Minolta Gator Bowl
Ramsey, NJ and Jacksonville, FL (Vocus) December 7, 2009 –-
Daniel Kennedy Murphy, Chairman of the Gator Bowl Association and Senior Vice President and Treasurer of Fidelity National Financial, announced today that West Virginia University will play Florida State University in the January 1, 2010 Konica Minolta Gator Bowl.
The West Virginia Mountaineers, the Big East Conference representative, finished their regular season with an overall record of 9-3. This match-up will mark West Virginia's fourth New Year's Day trip to Jacksonville in seven seasons, and its first since beating Georgia Tech in 2007.
The Florida State Seminoles, the Atlantic Coast Conference representative, finished their regular season with an overall record of 6-6. They will also make their seventh appearance in the Gator Bowl Classic and the 5th appearance under Coach Bobby Bowden. The Seminoles Gator Bowl record stands at 5-0-1.
The December 30, 1982 Gator Bowl Classic featuring West Virginia and Florida State was the first time West Virginia University played in the Bowl game and the first appearance by Florida State under Coach Bobby Bowden. The 2010 Konica Minolta Gator Bowl will be Coach Bowden's 28th consecutive Bowl appearance which began with the 1982 Gator Bowl matchup with West Virginia. The last time these teams met in the Gator Bowl Classic was on January 1, 2005, which Florida State won 30-18.
The West Virginia Mountaineers will be making their eighth-consecutive bowl appearance and third under Bill Stewart, who was named Head Coach in January 2008 after leading West Virginia to a 48-28 victory over Oklahoma in the Tostitos Fiesta Bowl. He finished his first season with a 9-4 record, and the 2009 regular season 9-3.
"We are honored and proud to represent the Big East Conference in the 2010 Konica Minolta Gator Bowl," Stewart said. "Our football team and fans are looking forward to traveling to Jacksonville to play in this great bowl game. West Virginia University has a great history and tradition with the Gator Bowl, and we look forward to our trip to that great city and the game on January 1st."
"We had a great season, and it will be an honor to play Florida State and Coach Bobby Bowden. He is one of the greatest coaches in the game, and we have the utmost respect for him. We all know about his ties to West Virginia, and what he has done for college football has been tremendous," added Stewart.
Bobby Bowden will coach his final game in the 2010 Konica Minolta Gator Bowl. This will complete his 34th season as coach at Florida State. During his 44 years of coaching, Coach Bowden is the second winningest coach in major college football history with 388 career coaching victories.
"It excites me to know that we're going to go to the Gator Bowl. It was the first bowl I was associated with as an assistant coach at Florida State in 1964 when we played Oklahoma in the January 2, 1965 Gator Bowl. And of course, the first bowl in our 28-bowl streak was against West Virginia in the 1982 Gator Bowl," said Bowden.
"We are extremely excited to go back to Jacksonville. They've been great partners with Florida State. It is also a wonderful opportunity for Coach Bowden to have his final game in the Gator Bowl against West Virginia and it gives our fans the chance to be there for this historic event," said Florida State Director of Athletics, Randy Spetman.
"West Virginia and Florida State are truly among the greatest of football traditions in the nation. The Mountaineers and Seminoles will provide one of the most exciting and emotional games of the Bowl season and we are looking forward to welcoming both teams and their fans to Jacksonville for this great New Year's Day matchup," said Chairman Dan Murphy.
"Each year the excitement surrounding our title sponsorship of the Gator Bowl Classic has increased due to the highly competitive matchups. We are proud to have two teams with the rich football tradition and national appeal of Florida State and West Virginia participating in the 2010 Konica Minolta Gator Bowl," said Kevin Kern, Senior Vice President, Marketing, Konica Minolta Business Solutions U.S.A., Inc. "Our team looks forward to seeing each team's enthusiastic fans in Jacksonville on New Year's Day and would like to encourage Seminole, Mountaineer, and all college football fans to visit http://www.KMBSsports.com* to register for a chance to win a trip for two to this year's historic matchup."
The 65th Annual Konica Minolta Gator Bowl will be played January 1, 2010, at Jacksonville Municipal Stadium in Jacksonville, Florida. Kickoff will be at 1:00 p.m. EST and the game will be televised nationally on CBS Sports. Ticket prices for the Konica Minolta Gator Bowl are $60 for VIP seats and $50 for stadium seats. Tickets are available for purchase through Ticketmaster at 904.353.3309 or online at http://www.ticketmaster.com.
Visit http://www.KMBSsports.com to enter for your chance to win The Konica Minolta Ultimate Sports Experience*.
About Konica Minolta
Konica Minolta Business Solutions U.S.A., Inc. is a leader in advanced imaging and networking technologies for the desktop to the print shop. For the second consecutive year, Konica Minolta was recognized as the #1 Brand for Customer Loyalty in the MFP Office Copier Market by Brand Keys. For more information, please visit CountOnKonicaMinolta.com and follow us on Twitter at twitter.com/KonicaMinoltaUS.
About The Gator Bowl Association
The Gator Bowl Association is a 501(c) 3 not-for profit organization whose mission is to provide Northeast Florida with the very best in college athletics and related activities in order to maximize positive impact on the area's economy, national image and community pride. Its primary charitable activities are focused on education and youth in the North Florida area. For more information on the Association, please visit http://www.gatorbowl.com.
Konica Minolta Contact:
James Norberto
Konica Minolta Business Solutions U.S.A., Inc.
+1 201.825.4000
Gator Bowl Association Contact:
Cheri O'Neill
Gator Bowl Association
+1 904.798.1700
Konica Minolta is a trademark of Konica Minolta Holdings, Inc. All other trademarks mentioned in this document are the property of their respective owners. * NO PURCHASE NECESSARY. A PURCHASE WILL NOT INCREASE YOUR CHANCES OF WINNING. LEGAL RESIDENTS OF THE 48 CONTIGUOUS U.S. (D.C.), 21 YEARS AND OLDER. VOID IN AK, HI AND WHERE PROHIBITED. Sweepstakes ends: 12/15/09. For Official Rules, prize descriptions and odds disclosure, visit http://www.kmbssports.com. Sponsor: Konica Minolta Business Solutions U.S.A, Inc., 100 Williams Drive, Ramsey, NJ 07446.
###