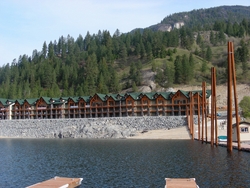 How many places can you be shopping in a main-stream store in the a.m. and be on a lake where you cannot see another boat in the afternoon? Where else can you ski at a world-renowned ski area the same day that you fish for record-sized trout?
(PRWEB) June 30, 2010
Building on its history as a popular Canadian vacation destination for residents of the northwest United States and Canada - and only 48.3 kilometres (30 miles) north of the Canada-U.S. border - Arrow Lakeside Homes is offering huge savings for a limited time on luxury vacation homes on Arrow Lake in the West Kootneys region of British Columbia.
"With the new harmonized sales tax coming into effect in B.C. July 1, the timing was right for us to offer great savings to purchasers so they can take advantage of the completed Arrow Lakeside Homes right now," says Steve Brown, one of the principals of the project. Brown, president and CEO of Gypsum Drywall of Calgary, one of the largest commercial drywall contracting firms in Western Canada working on commercial and residential developments, is the developer of Arrow Lakeside Homes with Tim Morgan, president and CEO of Enerjet and Air Partners Corp., and one of the founding partners of WestJet.
The development is on the shores of Arrow Lake, in the heart of the Canadian wilderness – yet it is close enough to conveniences to make it the perfect getaway.
"Arrow Lake is unique," says Morgan. "It is a year-round spot to enjoy because there is something for everyone.
"Fewer and fewer spots like this are so secluded and peaceful, so when the opportunity to develop such a unique property arose, we jumped on it." ( http://www.hellobc.com Click this link.]
The lake is 230 kilometres (143 miles) long and three kilometers (1.86 miles) at its widest part, and the fresh water that never freezes is known for its world-class fishing. It is teaming with fish, from Dolly Varden to Kokanee, rainbow trout and North America's largest freshwater fish, the mighty Sturgeon.
A 99-slip marina sits in front of the 57-unit condo complex and for all new full-unit purchasers, the developers are offering free moorage for one slip for two years.
The development is the first of its kind in the area, where the Selkirk and Monashee Mountains frame the lake. Crown land is directly across the lake and Syringa Provincial Park is adjacent to Arrow Lakeside Homes, so further development in the area will be restricted.
"We wanted to create something that brought luxury to such a pristine, rustic setting," says Brown. "But at the same time, we wanted to be authentic and respectful of the natural setting. That's why we looked to incorporate the building's shape, size and exterior finishes to best match the waterfront and hillside setting."
The rustic beam and rock detail on the building's exterior mixes with steep roof pitches, and glass under railings on balconies, creating an upscale mountain lodge feel.
Inside, luxury is supreme.
"The interiors were equally as important to us," says Brown. "We wanted to provide the level of finishing that discriminating purchasers would appreciate."
High-end features include open-concept plans with models anywhere from one bedroom to four bedrooms, some with lofts. Sizes range from 902 to more than 1,400 square feet.
All balconies are a generous 225 square feet facing the water - and they come with a personal hot tub to soak up the atmosphere in style.
Large windows take in the south-facing views, ceilings are nine feet high, electric fireplaces are in great rooms, and modern kitchens include stainless-steel appliances.
Complete furniture packages from Blackstone Interiors in Kelowna, B.C. start at $21,900 (Canadian), with choices that run from contemporary to country.
Whole ownership of units is priced from $379,900 (Canadian) and quarter ownership is available on select units from $119,900 (Canadian).
An excellent variety of units is ready for immediate possession. Or purchasers can select colours and finishing packages on a good number of units.
Off-site storage is available for larger items, such as boat trailers.
Although secluded and private, Arrow Lakeside Homes is still close to the small city of Castlegar, which is just a 15 minute drive away. Check the website http://www.castlegar.ca. Click this link.].
"How many places can you be shopping in a main-stream store in the morning and be on a lake where you cannot see another boat in the afternoon?" Morgan asks. "Where else can you go skiing at a world-renowned ski area the same day that you go fishing for record-sized trout?"
The area boasts four-season attractions, including golfing, skiing, back-country camping, snowmobiling, scenic hiking, helicopter touring, eco-tours, and all water sports.
Three natural hot springs are in the area and eight golf courses within a 90-minute drive, including the nearby Castlegar golf course which received a recent four-star rating by Golf Digest.
For more information, check the website http://www.arrowlakesidehomes.com.
# # #