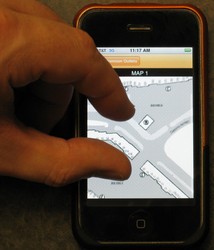 The attendees of MacWorld expect to see the latest innovations in mobile technology and applications, said Jim Hebert, CEO of ReadyPath. ReadyPath uses smart phone technology to enhance the experience of large venue events and conferences.
San Francisco, CA (PRWEB) February 11, 2010
ReadyPath has developed a walking map for MacWorld® 2010. ReadyPath, a new map services company, has developed the first iPhone application for walking maps for in-building use.
Due to the leading edge viewer technology developed exclusively by ReadyPath, Inc. attendees can now roam the show floor using the maps to navigate without worrying about maintaining web connectivity. The new smart phone application downloads the maps and directories into phone memory, making it possible to use a map anytime without having to be on-line continuously. Choose from a list of exhibitors and mark there location on the map. Find and call local restaurants. Maps are surprisingly easy to pan and zoom. They give both the perspective and detail needed to quickly find show locations and local points of interest.
Try it out, then tweet ReadyPath your opinion at http://www.twitter/readypath and you will be entered into a contest to win a $500.00 iTunes® Gift card.
See how it works on YouTube.
iPhone Users can try out the ReadyPath MacWorld map application by picking it up at iTunes®.
Don't have an iPhone? Microsoft® Smart Phone Users can pick up the application at Microsoft® Marketplace.
ReadyPath directory/maps can include a single sponsor splash page much like the cover image on a paper map. Unlike other trade show text services, users are only sent the directory - maps they request and do not need to register on-line or give out their personal cell phone number.
ReadyPath developed its smart phone map service to improve the trade show experience for attendees, show management and exhibitors alike. Attendees can better manage their time, exhibitors can improve the quality of their traffic, and show management has an exciting new tool to aid show promotion.
About ReadyPath Inc.
Readypath, a privately held company was founded in 2007. The company's mission is to be the premiere venue mobile maps provider for all large venue locations. It's their goal to support the first "Green Alternative" to paper walking maps giving customers what they want; real-time information in an accessible and convenient mobile application. For more information on venues supported by ReadyPath Visit http://www.readypath.com.
Media Contact for ReadyPath (Press Only)
Tom Brinkoetter
Phone (858) 829 6453
# # #