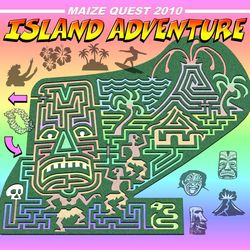 We started helping other farms back in 1999
New Park, PA (Vocus) September 22, 2010
The classic fall pumpkin patch has changed over the years. On a visit to a fall harvest farm with a corn maze, guests discover educational game stations, brightly colored barricade tape, laser-etched pictures to collect, and secret words to decode. It's all part of a cornfield maze game system created and deployed by Maize Quest for its farmer-partner locations.
"We started helping other farms back in 1999," says Hugh McPherson, The Maze Master and founder of Maize Quest. "We asked, "What if we brought professional design and completely new and innovative games to our farm in the maze?" It hadn't been done before, but boy, did our guests like it!"
Upon hearing of McPherson's success on his home farm, other farmers began calling. You are probably close to a Maize Quest-designed cornfield maze. Maize Quest provides professional design service to 59 farms across the US and Canada each year. Farmers use Maize Quest to present their guests with a top-notch corn maze attraction without shifting their focus from producing crops during the summer months.
"We do the creative and technical work for our operators, so they can focus on taking care of guests," says Tim Day, a Maize Quest client who has become Maize Quest's Maze Cutting Specialist. "As a farmer, you just don't have time to do it all well. You need help."
When a farm joins Maize Quest, they typically are looking for a corn maze, educational games, and guidance in the business of agri-tainment; or entertainment agriculture. The corn maze might be just the first attraction for operators.
Many Maize Quest operators add straw bale mazes, puzzle mazes, rope mazes, Finger Fortune games, and more from Maize Quest's Maze Catalog. Adding attractions diversifies the experience for the farms' guests and builds value in the guests' experiences.
"These guys are really organized in what they do," says Alan Ard, a long-time Maize Quest client from Ard's Farm Market in Lewisburg, PA. "The progression of change and improvement in the system over time has been awesome."
While pick-your-own pumpkin patches continue to grow in popularity, the goal for Maize Quest's corn maze operators remains to bring new guests, and new revenue, out to the farm. Wholesome, outdoor fun is the hallmark of the fall harvest season. It is the kind of fun that pairs well with the local food movement.
"As a non-farmer, I really see the value in raising awareness in agriculture by bringing people to the farm for hands-on learning," says "Designer Dave" Phillips, Maize Quest's maze designer. "This is work you can really believe in. We're using mazes to help make farming sustainable for today's farmers and teach tomorrow's leaders about agriculture."
To visit a Maize Quest Corn Maze near you, visit http://www.cornmaze.com for a map of locations. If you are near Pennsylvania, see the attractions at the original Maize Quest Fun Park or to see the Maze Catalog of attractions from Maize Quest's Design Services visit http://www.MazeCatalog.com. Reach Maize Quest's Home Office at 1-866-935-6738.
###