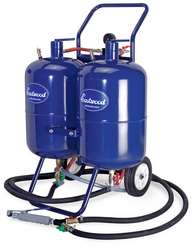 Pottstown, PA (Vocus) August 4, 2010
Stripping an entire paint job with sanders or chemicals can be a long and tiresome process. Sanders and chemicals could cause severe damage to automotive bodywork and future paint job, if the hobbyist is not careful.
Fortunately, blasting can easily strip paint and rust, producing professional results. Abrasive blasting has been used for years, but soda blasting has drawn a lot of attention within the restoration market.
But which one is right for a diy restoration project?
There are many differences between Abrasive Blasters and Soda Blasters that need to be known before making a choice of which one to use.
Abrasive blasting has been used for many years to clean and remove rust, paint, and corrosion. There are many types of abrasive media available. The most common abrasive media are Aluminum Oxide Silicon Carbide, and Glass Bead. These medias have an aggressive cut and can rapidly remove paint and rust.
However, they can also generate a lot of heat, resulting in warped metal and etched surfaces. Aggressive medias cannot be used on fiberglass. Any chrome, plastic, rubber, trim, and other parts must be removed from the car or masked-off before blasting.
Alternatively, less-aggressive medias, such as Walnut Shell, will do a great job at removing paint. Walnut Shell does not generate as much heat as other media, and can be used on sheet metal and fiberglass without damaging the base material. However, Walnut Shell, as with any abrasive media, will require more clean-up as it leaves particles in the seams and crevices of the car body that can be difficult to completely remove.
Unlike traditional medias, soda media is softer so there is no warping or etching. Soda is a perfect choice for steel, aluminum, plastic and fiberglass. The soda strips off the paint and leaves a smooth and texture-free finish. As an added benefit, soda blasting is so delicate that chrome, plastic, rubber, and other components can be left on the vehicle when blasting.
After blasting, a thin film of soda will cover the part. This film prevents flash rust for up to several months. When ready to paint or coat, simply rise off the film with water (Soda is both soluble and inert). Rinsing also takes care of any stray soda that may have gotten into seams or crevices. While cleaning up soda is as simple as spraying water, proper steps should be taken to recover and properly dispose of removed paint particles.
Soda can also be used to clean and degrease parts such as transmissions or rear axles, causing no harm to internal moving parts. Soda can easily clean under-hood areas, without removing or harming components or wiring. Soda can also be used to clean almost any surface from wood to concrete to glass.
However, soda cannot remove heavy rust or corrosion or other substrates such as body filler. The Soda is not strong enough to lift away these heavy materials. These must be removed with abrasive blasting with Aluminum Oxide or glass bead.
The Eastwood Master Blaster - Dual Blaster is the best of both worlds. You can now select the media to suit the job. You can switch between soda and abrasive in seconds or mix at an infinite ratio between the two medias. The exclusive mixing valve allows on the fly mixing or selection between the two abrasives and allows you to cut blasting times in half. Use the soda to remove coatings on delicate substrates such as fiberglass, chrome, stainless, etc & quickly switch to abrasives such as crushed glass, glass bead, aluminum oxide, etc in seconds to blast through heavy scale, rust or multiple coatings.
Abrasive vs. Soda – with Eastwood's Master Blaster, the diyer can now easily use both media with the turn of a valve, achieving professional results.
Eastwood markets unique tools and supplies for repair, restoration, and modification of cars, trucks, and motorcycles. Founded in 1978, Eastwood constantly strives to develop new products to serve the home automotive hobbyist, as well as individuals and organizations focused on the restoration and preservation of automobiles and motorcycles. Writers are always welcome to use any article in Eastwood's Free Tech Library, with attribution. Contact: Connie LaMotta at 845.596.6091 or conniela(at)mac(dot)com.
# # #