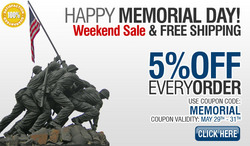 We all have had a relative or friend that has given all for freedom. Nowadays it's easier to keep memories forever and share them either by photos or letters; Printing is part of that remembrance process
Bell, CA (Vocus) May 29, 2010
Inkjetsuperstore would like to celebrate Memorial Day having an expectacular three day weekend sale allowing customers to get printer ink with a discount along with free ground shipping. The promotion includes 5% off on every ink and toner cartridge in stock, that includes original manufactured cartridges (OEM) as well as compatible and remanufactured printer ink.
Memorial Day Weekend Sale has the aim to help Americans Remember. "We all have had a relative or friend that has given all for freedom. Nowadays it's easier to keep memories forever and share them either by photos or letters; Printing is part of that remembrance process," said Dan Diaz- Customer Service Supervisor
Along with all the weekend savings Inkjetsuperstore has a few printing tips to share.
Tip 1: Print Preview: By simply previewing your document before printing, you can catch formatting errors and typos that will eliminate the need to reprint documents later. This tip alone with reduce your ink and paper costs.
Tip 2: Print in draft mode: Go to your printer setting ans select draft mode printing. Check out the owner's manual for your printer to learn how to print drafts and unimportant documents in draft mode. Printing in this mode uses less ink.
Tip 3: Keep stock on hand: By purchasing several ink cartridges at a time you could save on quantity discounts and reduced shipping costs. This will also eliminate the need to make an emergency run to the office superstore and pay full retail prices.
About InkjetSuperstore
InkjetSuperstore.com operates as an online retailer in North America and internationally. The company operates various retail Web sites, including inkjetsuperstore.com, inkjetsuperstore.ca, inkjetsuperstore.co.uk, and tonerzone.com. Its product categories include original and aftermarket ink cartridges; toner cartridges, copy toners, and fax supplies; postage meter supplies, photo paper; back-up media and storage, cables; The company serves its consumer customers through its retail Websites and focuses on immediate shipping, selection, price, and convenience. Further, it brands its own environmentally friendly ink & toner cartridges Inkjetsuperstore.com is headquartered in Los Angeles, CA.
# # #