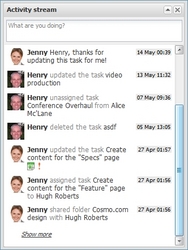 A stand-alone microblogging application is not what enterprises are looking for.
San Jose, CA (PRWEB) June 2, 2010
Wrike.com, a leader in online project management software innovations, sets a new project management productivity standard by adding the "Activity Stream" feature to its award-winning project management and collaboration solution.
Wrike's Activity Stream represents a built-in microblogging tool that allows everyone on the team to instantly share information and links, post information about their progress, report problems, and get solutions. In addition, Activity Stream displays all the team members' recent actions in real time. Users can see changes that their peers make to tasks and projects immediately. The result is a team productivity boost, better communications and tighter control across multiple projects and teams.
"Enterprise microblogging is a highly demanded functionality in thousands of organizations today.
However, a stand-alone microblogging application is not what enterprises are looking for. Managers find it inconvenient to track the project progress across different tools, so a stand-alone microblogging tool simply doesn't make sense. We chose a different path and integrated microblogging with project management software to maximize overall productivity. With Wrike's Activity Stream, project managers are always in control, as they instantly know what is happening on a project. The feature has already gained immense popularity with our customers, who need to manage multiple projects simultaneously," Andrew Filev, CEO at Wrike.com, points out.
"I like the built-in Activity Stream component a lot. We used to use Yammer for microblogging on our projects, but it wasn't really worth an extra app for just that functionality. But microblogging built into the online project management system makes more sense and is far more useful," confirms Luther Cale, chief of marketing at HealthStream. "I like the Activity Stream, and I think that it would be hugely beneficial for big companies and people working off-site or in different time zones," agrees Nick Doherty, managing editor of television at SBS Online.
To see Wrike's Activity Stream in action for free, please visit http://www.wrike.com.
About Wrike
Wrike (http://www.wrike.com) is the leading on-demand, online project management and collaboration solution. It provides teams with a unique platform for collaborating on multiple projects in one workspace in real time. Wrike's collaboration features give a significant productivity gain to diverse small and midsize companies (http://www.wrike.com/stories.jsp) and are known to save managers up to 30 working hours per month. Its e-mail integration is the most advanced in the project management space. Wrike, Inc. has patents pending. Founded in 2003, Wrike, Inc. is a privately held corporation located in California.
###