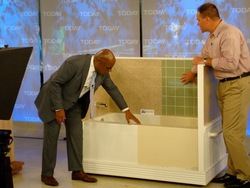 "It was great to have Miracle Method recognized on national television as the best," Don Dominick, Miracle Method Marketing Director
Wheat Ridge, CO (PRWEB) May 4, 2010
Miracle Method Surface Refinishing and their bathroom and kitchen makeover service was featured on NBC's Today Show on April 29. Al Roker, the Today Show's weatherman and feature reporter, along with their home improvement expert, Lou Manfredini, talked about the benefits of refinishing and how Miracle Method can make dated bathtubs; tile and countertops look like new again.
The two also discussed how surface refinishing keeps perfectly restorable bathtubs, tile, vanities and kitchen countertops out of landfills. In the last year, Miracle Method alone kept nearly 2,000,000 cubic feet of worn bathtubs, tile and countertops out of landfills.
Miracle Method provided a sample before-and-after bathtub and company Marketing Director, Don Dominick, traveled to New York to make sure everything went as planned. "It was great to have Miracle Method recognized on national television as the best," says Dominick about the experience.
The impact from being on the highest rated network morning television news show was immediate. "Miracle Method has 120 offices nationwide and within minutes of the broadcast, our franchisees were reporting calls for estimates," says Chuck Pistor, Miracle Method president. As the Today Show reaches 5.7 million daily viewers and a single 30-second spot on the show would cost between $60,000-65,000, "It was worth our time, money and effort to do this."
The Today Show segment can be seen on the Miracle Method website, http://www.miraclemethod.com. Just click the Today Show logo on the home page.
Miracle Method was invited to be on the show by Lou Manfredini, a home improvement talk show host on WGN radio in Chicago. Manfredini is a regular on the Today Show and offers viewers advice on new products and ways to save money on home improvement projects. He is familiar with Miracle Method's surface refinishing process and has been recommending its use to homeowners as an alternative to removal and replacement remodeling for years.
In business for over thirty years, Miracle Method is the nation's largest surface refinishing network. By refinishing all types of tubs, showers, tile and countertops, Miracle Method can change colors, extend the life of the fixture for 15 years or more, and save up to 75% over replacement costs. The company provides its surface refinishing services to homeowners, hotels, university housing, hospitals and property managers.
To learn more about Miracle Method and to see samples of their work, log on to http://www.miraclemethod.com or call (888) 271-7690 to connected to nearest office.
###