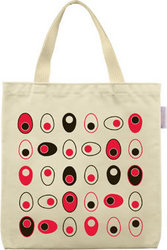 Our Egg tote bag is the perfect, modern expression of Easter and will provide Mom or child with a terrific reusable bag that they can enjoy for years to come. We chose the egg as our logo because of its clean design and because it's a symbol of life.
Encino, CA (PRWEB) March 15, 2010
As Easter approaches, millions of baskets wrapped in plastic are waiting to be purchased. L.A. based Modernest suggests a Green Easter DIY idea: line their egg-themed tote bag with shredded paper, wrap up chocolate goodies and locally purchased or homemade treats in biodegradable cellophane and load them into one of their canvas tote bags.
The Modernest Egg tote bag is a stylish, reusable alternative to an Easter basket. Available in two sizes, its modern, graphic pattern will delight on Easter and will last for up to ten years - long after the festivities have ended. And it's a terrific way to teach kids about the three R's of Reduce, Reuse, Recycle.
Modernest's debut collection comes in five original designs: Argyle, Cherry Blossom, Egg (their signature bag), Modern Love Birds, and Typography. Modernest bags are cut and sewn by hand in America. They use unbleached, natural cotton that is grown in the U.S. and a factory that is woman-owned and sweatshop free.
Ms. de Brevannes launched modernest.com in response to the mountain of reusable shopping bags in her car. Flimsy and made in China, she searched for a sturdy, American-made tote bag with a modern sensibility. Unable to find exactly what she wanted, she, like many entrepreneurs, decided to create her own product. Enlisting the talents of her graphic designer boyfriend, the two launched their line of canvas tote bags at the beginning of March and the response has been very positive.
About Modernest:
Launched in March of 2010, Modernest's debut collection of canvas tote bags feature modern graphic designs, silk screened on unbleached domestic cotton and made by hand in America.
###