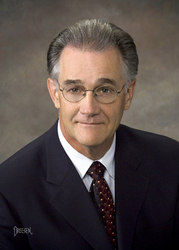 "I look forward to serving as PMMI's chairman and facilitating PMMI's vision to be the leading global resource for packaging by improving and promoting our members' successes.
Glenwood, IL (PRWEB) October 4, 2010
Nick Wilson, president of Morrison Container Handling Solutions, a leading manufacturer of feed and timing screws as well as change parts for the packaging industry, has been elected chairman of the Packaging Machinery Manufacturers Institute (PMMI) Board of Directors effective January 1, 2011. He has been a member of PMMI's Board of Directors since 2006 served as vice chairman and executive committee member in 2010.
PMMI is a trade association with 568 member companies that manufacture packaging, processing and related converting machinery, commercially available packaging machinery components, containers and materials in the United States and Canada.
"I look forward to serving as PMMI's chairman and facilitating PMMI's vision to be the leading global resource for packaging by improving and promoting our members' successes. PMMI members are renowned globally for making the highest quality equipment, offering responsive service and committing to meeting their customers' needs. This is a privilege to help our member companies make the most of the opportunities we have to go forward and thrive," said Nick Wilson.
In addition to being actively involved in the leadership of PMMI, Nick Wilson is an elected member of the advisory council of the Purdue Technology Center of Northwest Indiana. The council of 23 business and education professionals provides guidance and perspective to client businesses seeking to establish themselves in Northwest Indiana and grow the region's economy.
Nick Wilson was instrumental in the development of the first 4 year degreed packaging Mechatronics (electro-mechanical) Engineering Technology program established at Purdue University Calumet (Hammond, IN) in 2008. Nick Wilson has forged this industry-education partnership that is producing a highly qualified workforce of packaging mechatronics engineers to meet the increasingly complex needs of the packaging industry. Partnering his company — Morrison Container Handling Solutions — with PMMI and other packaging machinery manufacturers and suppliers provides Purdue Calumet with a professional national advisory group that also supplies equipment to the University to help students gain hands-on experience in the packaging lab. Nick Wilson also is an active member on the Dean's Technology Advisory Board.
Nick Wilson has a track record approaching four decades of answering the needs of the packaging machinery industry. He founded Morrison in 1971 to provide superior technical expertise in the manufacture of container-handling products. With his chemical engineering and accounting background and professional experience as an engineer to guide him, Nick Wilson set about to build the best container handling systems in the packaging industry. In the decades that followed, Morrison grew to become one of the most respected names in the field and is well known for engineering exceptional solutions, reliable products, and dedication to customer service.
Morrison Container Handling Solutions and Nick Wilson are long-time members of PMMI, and regularly exhibit at PMMI's Pack Expo tradeshows.
Nick Wilson graduated from Iowa State University in 1967 with a BS in chemical engineering. He was awarded an MBA in accounting from Loyola University, Chicago, in 1976.
For almost 40 years, Morrison Container Handling Solutions has been a recognized leader in the production of timing screws and change parts. Well-known for its ability to problem-solve quickly, Morrison provides packaging solutions for national and international companies.
Morrison – Delivering Container Handling Solutions since 1971
For more information, please contact:
Morrison Container Handling Solutions
335 West 194th Street, Glenwood, IL 60425
708.756.6660 Fax 708.756.6620
Visit http://www.morrison-chs.com
###