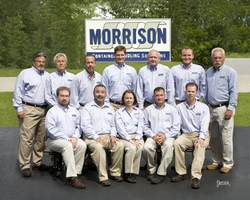 Glenwood, IL (PRWEB) October 29, 2010
Morrison Container Handling Solutions, a leading manufacturer of feed and timing screws as well as change parts for the packaging industry, continues to outpace the competition by having 12 Packaging Machinery Manufacturers Institute (PMMI) Certified Trainers on staff to provide superior training for their customers. PMMI Certification means Morrison's team of trainers provides the absolute best standards of quality training with great results.
By tapping into the knowledge of Morrison's PMMI Certified Trainers, Morrison's customers can expect to:

Reduce product damage and waste
Increase uptime by eradicating slowdowns and stoppages
Reduce changeover time and save time on repairs
Improve safety
Increase profits
Reduce equipment failure
Reduce raw and packaging material losses
Reduce overtime and costly service calls
Improve customer satisfaction
Like Morrison's team of PMMI Certified trainers, Morrison's timing screws and quick-change parts lead to greater line efficiencies for the most complex operations, and speed up changeover time for different container bottle shapes and sizes. Morrison custom designs drive units for new drive applications and to replace existing ones.
The Packaging Machinery Manufacturers Institute is a trade association with more than 530 member companies that manufacture packaging, processing and related converting machinery, commercially available packaging machinery components, containers and materials in the United States and Canada.
With more than 39 years of unmatched experience designing and engineering container handling systems, Morrison offers customers the best in problem solving, reliable products, technical expertise and customer service.
Morrison – Delivering Container Handling Solutions since 1971.
For more information, please contact:
Morrison Container Handling Solutions
335 West 194th Street, Glenwood, IL 60425
708.756.6660 Fax 708.756.6620
info(at)morrison-chs(dot)com
Visit http://www.morrison-chs.com
###