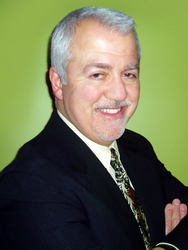 "George is one of the most dynamic presenters I have ever witnessed in my 30 years in this business." – Bob McClowry, Executive Vice President, Teamdetroit.
Rochester, MI (PRWEB) July 28, 2010
After recently announcing the celebration of their 2 year anniversary, George Piliouras & Associates, announces yet another big platform. They have added motivational speaking and Dynamic Presentation Seminars to their expanding roster.
George Piliouras & Associates is a Creative Communications company specializing in Advertising and Marketing led by George Piliouras, President and Chief Creative Officer. Now, they've added Dynamic Presentation Seminars and Motivational speaking to their areas of expertise.
Prior to taking an entrepreneurial turn, George served as Senior Vice President, Executive Creative Director at advertising powerhouse, J. Walter Thompson and created monumental campaigns for American Idol, Toby Keith and Ford's 53 Dealer Advertising Associations. His award-winning work has been proudly recognized by Mobius, Telly, Caddy, International TV Advertising, and the Radio Advertising Bureau.
Dynamic Presentation Skills and Motivational Speaker
In his highly successful career, George discovered that one of the key ingredients to being extremely influential in business is the ability to speak with authority, conviction and to make a passionate connection with your clients or audience. His unique style of presenting is filled with excitement, passion and enthusiasm which made him in top demand with clients in major cities across the USA.
In the past 20 years, George Piliouras has presented hundreds of advertising campaigns to GMC Truck and Ford Presidents, executive management teams, thousands of top clients nationwide, Toby Keith plus the executive management team at American Idol.
He developed a reputation for captivating his audiences by delivering powerful, dynamic presentations that earned him high accolades from his excited audiences with rave reviews and great success.
When asked about George's Presentation skills, the results spoke volumes.
"George is one of the most dynamic presenters I have ever witnessed in my 30 years in this business. I have watched George sell ideas to thousands of Ford Dealers and he's always been successful. This particular group are some of the best sales people in the world and for him to wow them the way he has is remarkable."
– Bob McClowry, Executive Vice President, Teamdetroit.
"No one, and I mean no one, presents like George. He brings a special kind of energy to a meeting that is nearly palpable. The clients are consistently enthralled and transported via "theater of the mind" to wherever George wants to take them."

Sam Chiodo, Principal/ Chief Marketing Officer at Driven
"George has a keen creative mind, understands the business issues facing clients, towards a goal of selling more product, and is a captivating presenter. The man knows how to sell."

Roman Lesnau, Executive Vice President, Managing Director, Teamdetroit
"George is a powerful, dynamic presenter who really knows how to engage and captivate his audience. He offers instruction to teach you the critical skills in presentation that will give you a competitive advantage in the workforce, and with clients."

Minesh Baxi, Author, Business Coach
"George is the most passionate, enthusiastic creative person I've witnessed. Watching George present creative ideas is something everyone should experience......as many times as you can!"

Karen Boyce, Dept. Head, Corporate Recruiting, Taubman Company
George Piliouras & Associates' company theme is "Say Something Believable in a Powerful Way." George has taken that vision to his presentation seminars for companies nationwide to teach audiences in all businesses How to Deliver a Dynamic Presentation. Topics included are:
1. Speaking in Public
2. Overcoming Fear
3. Pitfalls to Avoid While Presenting
4. Presenting to 5 People or 500
5. How to Capture Your Audience's Attention and Keep them Interested
6. Proven Ways to Successful Presentations that Help You Win Big
His seminars are designed to be entertaining, enlightening, engaging and packed full of dynamic instruction. They're presented in real-life terms that audiences can identify with and put to use immediately. His seminars can also be customized to fit the particular needs of any company and their teams.
"I can honestly say that my ability to confidently present with enthusiasm and confidence while engaging my audiences played a huge role in my success on the corporate level with top executives" says Piliouras.
"My passion is to teach people and companies the critical tools they need to present themselves with power which will lead to greater success in business."
George Piliouras & Associates have their sights set for more success by adding seminars in Dynamic Presentations and motivational speaking. Their company themeline, "Say Something Believable in a Powerful Way" is sure to prove itself true again and audiences are sure to be pleased with the results. Their website, http://www.gpiliourasandassoc.com offers a multitude of creative expertise, award-winning work and boasts an impressive list of client testimonials.
If you'd like more information on Dynamic Presentation seminars and/or speaking engagements with George Piliouras & Associates, please call George Piliouras at 313-595-1897 or e-mail us at the address above.
###