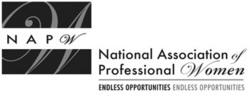 Garden City (Vocus) June 19, 2010
A successful meeting consisted of the following attendees: Susan Sanderson HR for Mass Mutual, Gretchen Kadillac, Amanda Lowe Principal of Digital Pathology Consultants – VP NAPW Denver Chapter, Kristen Sanz an Event Planner of Events NAPW Denver Chapter, Gale Niederworder President of the Chapter, Kari Cartwright President of EcoClean Home Services Inc, Peggy Ros Recognition Professional of Geiger and Kathryn Dominick President of Compliance Matters.
Announcements made were Chris Arntson of Maison d'ambiance volunteered to be the Chapter's Treasurer.
NAPW members could attend for free the Greenwood Village Chamber of Commerce Expo held May 7, 2010
Gale was named 1 or 25 people to watch by the NAPW. Congratulations Gale.
Members welcomed Gretchen as a new member.
Ideas were flying fast and furious during May's meeting. Topics under discussion included: new member outreach, broadening the board to include marketing and new member outreach, community involvement and miscellaneous items.
Chapter Board – It was agreed that the Board should be broadened to include two new positions, marketing and new member outreach. We also discussed that marketing may be best done through a subcommittee responsible for various aspects of marketing such as social media and community events. New Members – Amanda told the group that the Denver Chapter of the NAPW now had over 200 members. Getting information about new members from the National NAPW (National) was problematic. Gale agreed to talk to National to see how the Denver Chapter could obtain new member contact information. We agreed to create an outreach program for new members, however the details were undecided. Some of the ideas that were exchanged including: mailing a welcome letter to new members and creating a welcome package that would be distributed during a new member's first attendance at a Chapter meeting. Peggy Roos agreed to get some pricing regarding the costs associated with mailings. We agreed that the new member welcome package will include a NAPW pin, notebook and pen set. Gale suggested that NAPW name tags be added to the package. More research needs to be completed about getting name tags made.
Another idea was to create social media for the Chapter. Susan agreed to head the Chapter's social media program and will bring ideas to the next meeting.
Community Involvement – Different ideas for community involvement were discussed. Ideas included sponsoring booths at various events around the area. Gale noted that National will pay for the Denver Chapter's booths at community events. The visibility of the NAPW at events assists recruitment efforts. Sponsoring a charity was also discussed. Susan suggested St. Joseph's breast cancer program. No decisions were agreed upon and the matter will be discussed during the next meeting.
Additional Items discusssed were: When the July Meeting would be, members agreed to move the July meeting to July 8, 2010 in honor of the July 4th holiday. Members also agreed to hold the next After Hours Event at the end of August. Details have yet to be decided. We would like to integrate the Colorado Springs Chapter, we discussed ways to include the Colorado Springs Chapter in some events. One idea was to coordinate and/or invite the Colorado Springs Chapter to two or more After Hours Events. How we can maximize monthly meetings was also brought up, some Ideas for speaker presentations at the monthly meetings, presentation ideas included showcasing members' businesses, topics of interest, and business maximization ideas.
For additional information on the Denver chapter and NAPW, please visit http://www.napw.com. You can also follow us on Twitter and/or Facebook
###