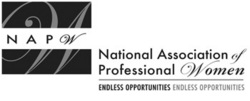 With so many professional women experiencing the pressures of today's distressed economic market, NAPW members are eager to distinguish themselves by finding the competitive edge
Garden City, NY (Vocus) April 19, 2010
The National Association of Professional Women (NAPW), the fastest growing professional women's associations in the United States, announced that Ruth Klein, nationally renowned writer, speaker, strategic marketing consultant and productivity coach, is April's featured guest on its famed online program NAPW In the Studio.
"With so many professional women experiencing the pressures of today's distressed economic market, NAPW members are eager to distinguish themselves by finding the competitive edge," states Nicole Zeitzer Johnson, Executive Producer of NAPW In the Studio. "Ruth's tips on how to become a thought leader -- the go-to person in your field -- are the kind of practical advice that can get many of our members on the right track for extraordinary business growth or career advancement."
Branding yourself with a personal "brand-print" is one of the top priorities that Ruth stresses. "Working to be real and true to yourself is critical to becoming a stand-out, go-to person in your industry," Ruth notes. "Everything that makes you who you are can and should be used to distinguish you from potential competitors. Once you incorporate and project the sum total of your individuality as your personal brand, you will be surprised to see how little competition you really have."
Next month on NAPW In the Studio, find out how to deal with a difficult boss. Kathi Elster and Katherine Crowley, authors of "Working For You Isn't Working For Me," share valuable tips on handling problematic bosses.
About NAPW In the Studio
NAPW In the Studio is an NAPW produced series of online broadcasts featuring interviews with recognized experts with valuable information pertinent to professional women. The show is hosted by Emmy Award-winning TV veteran Robin Dorian, who has produced documentaries for NBC, specials for Showtime, magazine shows for Fox's 20th Television, the Food Network, WUSA, PBS, Newhouse Communications, and Westinghouse Television, plus live events for ABC Sports. TV viewers know Robin from her five-year stint as a VJ on the music network VH1. Robin was also a guest host for ABC's Good Morning America and Extra. In addition to her Emmy, Robin is the recipient of an ACE Award and a Kodak Medallion of Excellence Award.
Nicole Zeitzer Johnson, Executive Producer of the show is also credited as a former producer of CNN Business News and CNN International, NBC's "The Jane Pauley Show," and NBC's "The Apprentice."
About NAPW
With more than 150,000 members, NAPW is the fastest growing and most recognized women's association in the nation. Accomplished members, from businesses large and small, work daily to achieve professional career growth and development through interactive online networking forums, local face-to-face chapter meetings, access to local and regional seminars, webinars, podcasts and many other educational tools. NAPW is an advanced forum for like-minded professional women to gain exposure and create innovative social and business relationships.
For more information about NAPW, follow us at NAPW Twitter and NAPW Facebook.
###