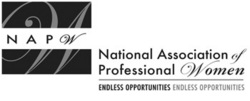 Working For You Isn't Working For Me
Garden City, NY (Vocus) May 11, 2010
This month NAPW In the Studio is featuring a can't-miss interview for anyone plagued by a difficult boss.
Kathi Elster and Katherine Crowley, co-authors of "Working For You Isn't Working For Me," sat down with Robin Dorian, the host of the National Association of Professional Women's popular online program NAPW In the Studio, and shared their secrets for handling problematic employee-boss relationships.
"Dealing with a boss you just don't mesh with can set many women back from reaching their professional goals," says Nicole Zeitzer-Johnson, Executive Producer of NAPW In the Studio. "Anyone in that predicament is sure to benefit from the recommendations Kathi and Katherine have to offer."
Kathi and Katherine are the co-authors of the New York Times bestseller "Working with You is Killing Me," and founders of the consulting firm K Squared Enterprises. Kathi is a business strategist, and Katherine is a Harvard-trained psychotherapist. Both are speakers and consultants on workplace relationships.
The advice the women share in this interview is geared to help NAPW members evaluate their own relationship with their boss, and prepare them with a step-by-step approach to either improve the relationship or recognize that they must leave the situation as soon as possible.
According to the authors, the process of resolving the complex relationship with a problematic boss begins with an employee's honest assessment of their needs, expectations and fears related to their relationship with their boss. The NAPW In the Studio discussion takes the viewer through four critical "guide post" issues that an employee must confront in order to reach a successful resolution in the boss-worker relationship.
Next month on NAPW In the Studio, listeners can find out how to fulfill their dream of becoming their own boss as Tamara Monosoff offers tips from her new book, Your Million Dollar Dream: Regain Control and Be Your Own Boss. Creating a Winning Business Plan. Turn Your Passion into Profit.
NAPW In the Studio is an NAPW-produced series of online broadcasts featuring interviews with recognized experts with valuable information pertinent to professional women. The show is hosted by Emmy Award-winning television veteran Robin Dorian, who has produced documentaries for NBC, specials for Showtime, magazine shows for Fox's 20th Television, the Food Network, WUSA, PBS, Newhouse Communications and Westinghouse Television, plus live events for ABC Sports. TV viewers know Robin from her five-year stint as a VJ on the music network VH1. Robin was also a guest host for ABC's Good Morning America and Extra. In addition to her Emmy, Robin is the recipient of an ACE Award and a Kodak Medallion of Excellence Award.
Nicole Zeitzer-Johnson, Executive Producer of the show, is also credited as a former producer of CNN Business News and CNN International, and NBC's "The Jane Pauley Show" and "The Apprentice."
With more than 150, 000 members, NAPW (the National Association of Professional Women), is the fastest growing and most recognized women's association in the nation. Accomplished members from businesses large and small work daily to achieve professional career growth and development through interactive online networking forums, local face-to-face chapter meetings, access to local and regional seminars, webinars, podcasts and many other educational tools. NAPW is an advanced forum for like-minded professional women to gain exposure and create innovative social and business relationships.
For more information about NAPW, visit http://www.napw.com. You can also be a fan on facebook.
# # #