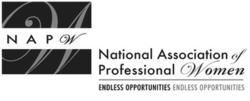 "Connect, Grow and Learn by networking with other NAPW members"
Sacramento, CA (Vocus/PRWEB) February 25, 2011
The Sacramento Chapter once again held two meetings, both a lunch and a dinner, this month.
Sharon Darrow, Chapter President, opened the meetings by welcoming everyone, then briefly speaking about the NAPW and the wide range of benefits available on the website. She pointed out the new scholarships for members' daughters, the podcasts, and the growth in Local Chapters across the country.
Sharon began introductions by describing her company Travel ID Cards. The company produces unique products (KidsTravelCards, TeenTravelCards, AdultInfoCards and PetTravelCards), plus custom ID badges for any type of organization or company. She spoke about her 45th High School reunion at Encina High in Sacramento. She said that her reunion had wonderful music, with a very special touch when one of the alumni spent time playing with the band. The alumni was Tim Schmit, of the Eagles. She shared pictures, including his High School yearbook photo and some candid shots from the reunion. Sharon asked each person to share any anecdotes they might have regarding someone whose name might be familiar.
Bonnie Terry, of Bonnie Terry Learning, helps parents and grandparents win the "homework wars". She announced that her website now has a working shopping cart. Bonnie has added a second venture, MyVideoTalk, which allows her to respond to clients in real time video.
Linda LeMaster, Premier Design Jewelry, attended the meeting as a guest. Linda handles a broad line of jewelry which she markets through parties. Linda used to work for the Recorder's Office, where she recorded documents and officiated at weddings. She remembered recording a Deed for Eddie Murphy, and married Jane Torval, who arrived at the office in a big tour bus.
Susan Harke, who is both a mobile notary and CPA, attended Mumford High School. This was the second connection to Eddie Murphy, since he wore a Mumford High sweatshirt in the Beverly Hills Cop movies. Susan also attended at the same time as Gilda Radner. Susan said she recently saw someone she had done routine notary work for featured in a news article -- he was indicted on a ponzi scheme.
Helena Fisk, works with the Sacramento S.B.D.C., Small Business Development Center, which is the consulting arm of the Small Business Administration. The S.B.D.C. is there to help businesses be successful, with numerous consultants available for free consultations in many different specialties. They also have all kinds of workshops for only $40 each. Helena's mother was a High School friend of Carol Channing, and she spent a lot of time with Glen Yarbrough. He enjoyed the company of Helena and her friends because they treated him like just any other guy.
Shahnaz Razvi, of New York Life, loves the insurance business, and is extremely proud to be associated with a company whose market share is up in spite of a difficult market. She is particularly proud of being able to help seniors who are running out of their retirements. Shahnaz went to school in India, so says we would not recognize the names that went on to accomplishments in "Bollywood". She did talk about an individual who started out making videos to help his cousin, and ended up with a huge free teaching site that Bill Gates has been trying to buy out. The site is http://www.khanacademy.org/ and it is truly amazing!
Gina Dominguez, who works with Shahnaz at New York Life, attended as a guest. She loves working as an agent, particularly with families and business owners. Gina grew up in San Francisco and met many sports figures, such as Jerry Rice and Joe Montana, at local clubs.
Patricia Wheeler just introduced herself as a newly retired State worker and disabled vet, who is now working as a proof reader and editor. She then said that she had met Freddy Weller of Paul Revere and the Raiders. Patricia is an amazing woman and Sharon simply could not let her pass with just that bit of information, and asked Patricia to speak a little about her accomplishments on behalf of veterans, disabled veterans, and women veterans in particular. A quick visit to her NAPW profile revealed an amazing history of service.
Shaton Donat is an agent for Farmers three days a week and intends to branch out. Since she is licensed in insurance, she is planning to follow up with Shahnaz Razvi. She graduated from Napa High School in 1965, where she participated in a choir directed by a famous choir director. They actually recorded a record and won the state championship. This choir was very difficult to get into, since you had to pass an audition to get in. She was recently contacted about the old choir director, who is still singing at 90. Sharon still has her original record, which as pictures of the choir on the back label.
Linda Melody, PrePaid Legal, helps people obtain affordable access to legal services. She also has the only full restoration plan for fixing identity theft. She shared a story about a friend who found out from DMV thta her husband's license was being used by someone else! Linda had no famous schoolmates, but while she was in broadcasting she interviewed Billy Graham often, and met lots of sports figures.
Rebecca Ward has been designing for about ten years, and has owned her own interior design firm, Rebecca Ward Design, for two years. She says that if you have ever admired a magazine picture of a beautiful room, just give her a call and together you can create that finished product for your home. As the youngest member in the room (Rebecca just graduated in 1998), none of her schoolmates have had time to achieve huge accomplishments yet. One of Rebecca's classmates was Lela Loren, who has been in "Lost", and will probably do many, many more memorable things in the future.
Sara Lopez, of SGL Enterprises, is an online retailer of Amway Global products, which have been leaders in organic and biodegradable features long before that became fashionable. She talked about Nutrilite, the nutritional and supplement line, Artistry Skin Care and Make-Up, which is the current campaign and the official makeup for Miss America, and the hundreds of partners like Sears and Best Buy. Sara loves using her business as a vehicle to help women develop their full potential. In addition to her business, she is passionate about diabetes education. Sara knows one of the players from the Toronto Blue Jays (sorry, but my note taking missed the name!), and reminded everyone that Tom Hanks is from Sacramento.
Dana Jacques, an OB/GYN physician, is now in business for herself so she can spent time with her patients. Educated in New York, but recently from Wisconsin, Dana loves working with women and in being the type of physician -- one who listens and cares about the whole person -- that we would all love to have. While living in New York Dana had a friend who was very fashion conscious. One day Dana was walking with this friend, who was wearing a long Calvin Klein cashmere coat with part of the lining falling out, when they ran into Calvin Klein! He appeared to recognize his coat, but didn't even turn around when she said that the lining was falling out. When Dana came to Sacramento for an interview she say limos and black cards driving up to the hotel. Arnold Schwartzenegger got out and passed right in front of her.
Debbie Rheinhardt, of American Pacific Mortgage, has been a mortgage lender since 1979. She started in San Diego and just worked her way north, and now lives in Rescue. Her passion is skiing, and she is on the slopes every weekend when there is snow. Debbie manages a branch of American Pacific Mortgage, handling out of state loans. She used to live in Hollywood, and had lots of contacts with famous names. Three Dog Night used to practice in her garage, she went to a party with the Rolling Stones, met Jimi Hendrix, Michael Bloomfield, and lots of others. The biggest connection for Debbie was when her oldest daughter dated Dr. Phil's son and went on many trips with him. She got to know Dr. Phil and his wife Robin very well, and even went to the wedding of the their other son. At the wedding she sat next to Larry King, who she says is older than you can imagine.
June Azevedo, of Azevedo Print & Design, said she didn't know anyone famous but knows everybody in the industry regarding print and design. She consults with clients about what they need, and then gets it done with the best and most reasonable experts around.
Shirl Whiteman, GITIS, LLC (Getting It Together In Sacramento, LLC), was our speaker for the meetings. Prior to starting her business she worked with pharmacies. When she called on pharmacies in Marin she used to see lots of the old groups like the Grateful Dead, etc. She ran into Joe Montana in Napa County, and has met Ernest Borgnine more than once. Shirl said that her entire work history, from grocery bagger to professional consultant to independent pharmacies, led her up to her current career as a professional organizer with a Level 1 Certification for Chronic Disorganization. She specializes in working with seniors, but the same basic organizational steps can work for anyone.
Shirl says that organizing is the process of realizing the true purpose of a space, and breaks down the process for reorganizing a space into the following steps:
1. Sort -- separate clutter into categories
2. Purge -- remove any items not related to the use of the space
3. Assign a home -- figure out where all items need to be in the room, including furniture
4. Containerize -- this just means "everything has a place", including time management for tasks
5. Equalize -- maintaining your new space
Both meetings this month had the same subject matter, but the dynamics of the different women make each meeting a unique experience. All of the Sacramento Chapter meetings include a lot of conversations and fun as members build friendships and rapport, but also include business building suggestions and professional networking opportunities.
For additional information regarding the Sacramento local chapter and/or http://napw.com, NAPW please visit http://www.napw.com.
For additional information on the Sacramento chapter visit http://www.napw.com
Also follow us on Twitter and Facebook
###