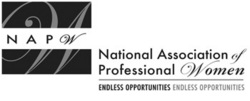 Garden City, NY (Vocus) February 18, 2010
The National Association of Professional Women's San Antonio chapter had a specific agenda for their 2010 kickoff meeting, it entailed:
Introductions took place. Announcements of new attendees, Roz Vogel was welcomed.
*Meet the Executive Board
Tracey Curran and Barbara Vander were present.
Traci McWaters was not able to attend due to illness.
With 240 members, response for this month's meeting was expected to be more significant. I survey will be sent out to find out why people are not attending/responding and to get feedback on future times and locations for the monthly meeting.
Topics discussed:
*Attracts, like trainings or dance lessons, etc., may be good draws for meetings.
*2010 Agenda
*Fundraising: We need ideas for fundraisers. An idea on the table is holding a Jazz concert in a local doctor's mansion and charging for tickets to raise money sometime in May.
*Suggestion for a Bachelors auction.
*Philanthropy: We would like to support a charity. Need suggestions from members. Tracey Curran suggested something around education, like the America Sunrise Organization, which encourages San Antonio youth to pursue careers in science and medicine. Also suggested working with the school district, community and education programs.
*Another option is each member donate a specific amount and the total amount be divided between two schools or whatever charity the chapter decides
*Some discussion about grants, the Fundraising committee will work together to get some information on grants.
*Some surveys will be sent to ascertain our chapter's demographics
*Monthly Meeting Arrangements
Some suggests were Alamo Café, Spaghetti Warehouse, Guillermo's Deli, Radius, Quarry, and Luce.
*Minutes will go out to members shortly after the meeting.
The next meeting will be 2/19/10, the third Friday of the month at 6:15 PM at Luce Ristorante & Enoteca. We will keep the meeting on the third Friday at this time but we will open back up to discussion if needed.
For additional information regarding the San Antonio local chapter, please visit http://www.napw.com or follow us at the National Association of Professional Women's Twitter Page!.
###