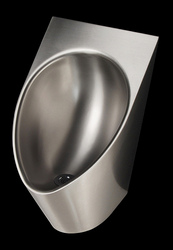 Los Angeles, CA (Vocus) April 25, 2010
NEO-METRO draws from the experience of parent company, Acorn Engineering, the renowned producer of stainless steel plumbing fixtures for more than 55 years. Stainless steel, a material known for its form and function, is this brand's canvas for sophisticated, eco-savvy design. Neo-Metro sculpts luxury bath furnishings out of 80 percent post- and pre-consumer stainless steel. With its clean, utilitarian form and strength, Neo Metro's hand-welded and sustainable products will outlast other fixtures, and never go out of style.
The Waterless Urinal has furthered Neo-Metro's commitment to the environment by utilizing a well-known technology that does not require water to flush or evacuate. This system is third-party certified as eco-friendly, earning LEED points toward water savings that, combined with other products built with respect to conservation, work toward achieving US Green Building certification. Not only does the unit save water, it also operates without the need for messy and expensive replacement liquid cartridges, therefore, no chemical cartridges are dumped into a landfill. Plus, stainless steel is a sterile material, significantly reducing the build up of bacteria.
This durable 16-gauge stainless steel product is wall mounted and can be installed to meet the American Disability Act's Standards for Accessible Design.
Neo-Metro offers the option of Enviro-Glaze® powder coating for all of their stainless steel products, including the Waterless Urinal, which comes in a variety of sophisticated hues, or can be color-matched to a specific shade. Neo-Metro also offers a high-polish or satin finish for a wide range of looks for every discerning taste.
ABOUT NEO METRO
NEO-METRO manufactures luxury bath décor as a division of Acorn Engineering Company, the top producer of stainless steel plumbing fixtures since 1954 in City of Industry, California. NEO-METRO features stainless steel washbasins, bathtubs, toilets, urinals and other fixtures for the residential and commercial bath. For more information please visit http://www.neo-metro.com or contact Amanda Savercool at (626) 937-4727 or (800) 488-9991 ext 4727.
###