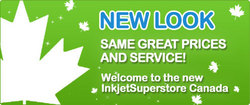 (Vocus) May 4, 2010
In only a few years InkjetSuperStore Canada has gone up on the online printing accessories list and became the first choice of more than 500,000 customers to purchase ink and toner cartridges. As part of their continual quest to provide a quick and easy way to purchase printer accessories the entire website has undergone a complete makeover.
"Some of the new things that can be experienced when purchasing at InkjetSuperstore Canada are meant to help customers have a pleasant, fast, informative, and safe shopping experience," says Santiago Bazzurro, IT Manager. "Naming a few for example, the quick way to find specific items using the Ink and Toner Finder where people choose their printer's brand, series and model from a drop down menu, also it allows to connect to InkjetSuperstore via Twitter, Facebook and Blog. The home page also features weekly products on sale."
It is important to highlight that even though the entire site looks different, the core of Inkjetsuperstore Canada which are their first-rate customer service department, their extensive stock of printer ink from major printer manufactures available in their own ON Canada distribution center, their one year full refund quality driven customer satisfaction guarantee are still the same.
A comment about InkjetSuperstore Canada from a valued customer: "I'm a computer Helpdesk administrator for a community bank. I visit a lot of sites trying to find specific items. Inkjet superstore is one of the best sites. It's very cleanly presented, well organized and uses information a consumer has, you don't have to be a tech to find your ink! Great store, very impressive. I'll be back." Eric Nelson.
About InkjetSuperstore Canada:
InkjetSuperstore Canada is an online reseller of ink cartridges delivering to all Canadian territory. They offer remanufactured, compatible, and OEM cartridges from all major brands. Over 700.000 choose them for their ink and toner needs. InkjetSuperstore Canada backs all their remanufactured products with a 100% Satisfaction guarantee. To purchase right now go to http://www.inkjetsuperstore.ca.
###