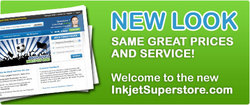 To be the best, the easiest, the cheapest and friendliest place to buy printer accessories
Bell, CA (Vocus) September 15, 2010
To accomplish their mission -"To be the best, the easiest, the cheapest and friendliest place to buy printer accessories"- their entire website was redesigned and rebuilt to achieve just that. Santiago Bazurro, Inkjetsuperstore's Web Design Manager specified some of those changes. "The entire new look is fresh and easy to use. Because there are thousands of products to showcase it was important to implement an easy way to find them having the Ink & Toner finder be the first thing customers see was one of the goals. Drop down tabs for customer service, my account, and my bargains personalize the shopping experience."
InkjetSuperstore.com operates as an online retailer in North America and internationally. The company operates various retail Web sites, including inkjetsuperstore.com, inkjetsuperstore.ca, inkjetsuperstore.co.uk, and tonerzone.com. "Changing the look of our page for a better customer shopping experience was a success for our Canadian store at the beginning of the year; And now Inkjetsuperstore.com took the step, all that was part of our year goals to globalize our look all around" stated Ilan Douek CEO.
Inkjetsuperstore headquarters are located in Los Angeles, CA, along with the warehouse that ships to all United States, Puerto Rico, and other US territories. Products include original and aftermarket ink cartridges; toner cartridges, copy toners, and fax supplies; postage meter supplies, photo paper; back-up media, POS supplies and cables.
It is important to highlight that even though the entire site looks different, the core of Inkjetsuperstore.com is their first-rate customer service department.
About Inkjetsuperstore
The company serves its consumer customers through its retail Websites and focuses on immediate shipping, selection, price, and convenience. Further, it brands its own environmentally friendly ink & toner cartridges. Visit them at http://www.inkjetsuperstore.com
###