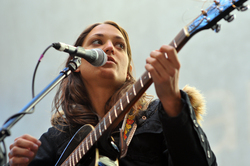 People tour non-stop for years and years and never get the opportunity to work with such a master, so I feel extremely fortunate to be a part of it." - Amber Rubarth
Brooklyn, NY (PRWEB) November 5, 2010
Amidst the sunshine and palm trees of the World Financial Center's Winter Garden, Brooklyn-based singer, songwriter and multi-instrumentalist Amber Rubarth received the highest ranks among the twelve competing artists in this year's Mountain Stage NewSong Contest live performance finals competition. Now in its ninth year, the NewSong Contest is a performance and songwriting competition that spans all genres of music, and it is regarded as one of the premier showcases of emerging artists in North America.
As with all former grand prize winners of the contest, Rubarth will perform on an international broadcast of NPR's venerable Mountain Stage radio show. But for the first time this year, a major career-propelling grand prize was added to the purse: the opportunity to record a 5-song EP with Grammy-winning producer, mixer and engineer Jacquire King, one of popular music's most versatile and gifted producers, mixers and engineers (Kings of Leon, Norah Jones, Cold War Kids).
"The NewSong Contest is such an amazing opportunity to unearth and showcase deserving talent," said King, a two-time Grammy award winner who was recently awarded the 'Record of the Year' Grammy for the Kings of Leon's "Use Somebody."
"I thought this year was especially great to be involved in because I was so impressed with all of the twelve finalists," King adds. "The contest winner Amber Rubarth is an artist of real depth and character. She possesses a wonderful creative intelligence and the joy Amber finds in her own music is totally evident when she performs. I'm looking forward to the recording process with her."
A 28-year-old Nevada native, Rubarth didn't take up the guitar until she was 20. Prior to pursuing music and songwriting as her primary creative outlet, she was an apprentice studying chain saw sculpture. It was a conversation with her mentor one evening that changed her creative course.
"He told me that I needed to figure out what my number one passion was and throw everything I have into that. And I knew it was music," Rubarth says. "It was almost like he gave me permission. He basically said it was my duty to do what I loved."
For Rubarth, the opportunity to work with King is a long awaited dream come true. "This feels like a dream. The first album that moved me in a way I couldn't shake was Tom Waits' Mule Variations—not only was I affected by Waits' songwriting but also the sound of the piano and the fullness of the recording. I later found out Jacquire King engineered and mixed it. People tour non-stop for years and years and never get the opportunity to work with such a master, so I feel extremely fortunate that NewSong created this and that I am lucky enough to be a part of it."
"I loved that the competition felt more like a group gathering than a cut-throat competition," Rubarth says. "Everyone was great and NewSong really created a wonderful weekend so everyone got a lot out of it. I'm keeping my touring plans light for the next few months so I can write, write, write."
Given King's busy schedule in the studio and the fact that Rubarth is on tour for the next few months, the two plan to unite sometime in the spring of next year at Lexington, KY's Saint Claire Recording Company, a full service, high end residential recording facility and partner in this year's contest.
"We're thrilled to host Amber and Jacquire here at Saint Claire next year," said Saint Claire studio manager Rosco Weber, "and look forward to facilitating a very successful creative collaboration."
Rubarth's appearance on Mountain Stage will be coordinated with the 2011 commercial release of the EP. Larry Groce, the show's host, founder and artistic director, served as one of the five judges who selected the winner.
"The Mountain Stage NewSong Contest was stronger than ever this year. The combination of an EP produced by Jaquire King and an appearance on Mountain Stage is a powerful incentive to any emerging artist," said Groce. "Amber Rubarth was the unanimous choice as the winner. She is a very strong lyricist and has a charming voice and a personality that's hard to resist. She certainly has all the elements needed for a very successful career and I look forward to her performance on Mountain Stage as well as to hearing what she does in the studio with Jaquire."
# # #