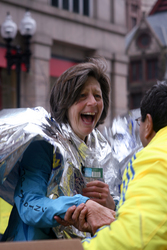 "A life does not end with a disability. It is just a new beginning."Ernst Van Dyke 9 time Boston Marathon Wheelchair Division Champion
Chestnut Hill, MA (PRWEB) September 15, 2010
Mary McManus, owner/creator of New World Greeting Cards and author of "New World Greetings:Inspirational Poetry and Musings for a New World" and "Set Sail for a New World:Healing a Life Through the Gift of Poetry" was interviewed by Candy O'Terry for Boston's #1 FM Radio Station show "Exceptional Women." Candy called Mary a "backyard hero" for the courage she demonstrated throughout her many life struggles. At the age of 5, Mary was stricken with paralytic polio, a forgotten disease here in the United States but one that still exists in underdeveloped countries. She not only had to endure the taunting and teasing of her peers at school but her father fell into alcoholism when she was 8 years old; her mother was ill and addicted to prescription pain medication. But Mary went on to be high school valedictorian and had an award winning career as a social worker at the Department of Veterans Affairs.
In December 2006, Mary was diagnosed with post polio syndrome, a progressive neurological disease that affects millions of polio survivors. She was told she had to leave her full time career as a social worker, and in all likelihood would be in a wheelchair. When Mary was 5 years old, her physical therapist, Miss Holly read Dr. Seuss to her before every painful physical therapy session. As she prayed for guidance about her future, her soul returned to the cadence of Dr. Seuss and inspirational poetry began pouring out of her. The messages were overflowing with love, light, joy, healing and gratitude, As she visualized healing through writing poetry and followed a rehab regimen, her body began to heal. She took a leap of faith leaving her full time career and created New World Greeting Cards, original poetry for every occasion and vowed to become a published poet.
Mary's interview for the Exceptional Women show chronicles her childhood struggles and triumphs, her career first as a social worker and her transformation of mind, body and spirit as she reinvented her life at the age of 53. Mary shares her triumphant 2009 Boston Marathon run and how poetry helped her to heal her life. Candy paints a portrait of Mary that will inspire you and bring you to tears. Air date will be some time in October. Check back on the show website and you can listen live or download the podcast.
###