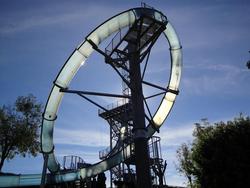 The floor falls out and riders drop, feet first, straight down a 10-story tower, taking them up, over and around the loop at speeds up to 40 mph.
Wisconsin Dells, Wis. (PRWEB) March 4, 2010
Noah's Ark Waterpark will unveil a new attraction Memorial weekend in 2010. "Scorpion's Tail" is North America's first looping waterslide and is also the tallest and largest of its kind in the world. Smaller versions exist in Slovenia, Germany and Japan. The ride features a launch rocket that plummets into a freefall down an enclosed chute at a top speed of nearly 40 mph and enters a looping slide. It stands 10 stories high and will be visible from afar in the Dells.
"This is the most groundbreaking water attraction since the launch of 'Black Anaconda' in 2005," says Tim Gantz, co-owner of Noah's Ark.
Perhaps one of the best descriptions of the new attraction comes from the ride's manufacturer, Whitewater West. "If you jump out of an airplane you have a cord to pull to open the parachute. If you bungee jump off of a bridge you have a band tied to your ankles that will catch you. If you fall down a 300-ft. tower at an amusement park you sit on a seat and there's a brake to stop you. If you go head first over a steep drop on a roller coaster you are strapped into a car on a track.
At Noah's Ark this summer, riders will have nothing to grab onto… nothing to sit on…nothing to pull…and no restraints. The floor falls out and you fall, feet first, straight down a 10-story tower. Just your body, the water and the air around you, whooshing as you fall through it, taking you up, over and around the loop before you come to a stop at the end of the ride."
Construction on the $1 million ride began in September 2009. When completed, "Scorpion's Tail" will be just over 400-ft. in length. Riders will climb nearly 80-ft. to the top of the lift tower. They will enter the launch rocket, which is a tube with a floor. On a countdown of "3-2-1", the bottom drops out of the tube and then gravity, water and centrifugal force take over. The rider whooshes through a 45-degree angled loop-de-loop at speeds of up to 40 mph.
About Noah's Ark
Situated on 70 acres in the heart of the Wisconsin Dells, Noah's Ark is continually evolving, offering the greatest variety of water rides in the nation. It now boasts 49 waterslides, two giant wave pools, two "endless rivers," four children's water play areas, bumper boats, 18-hole miniature golf, and two high-capacity group amusement rides: "Flash Flood" and the "SpongeBob Squarepants 4-D Movie Theater." The park is open Memorial Day weekend to Labor Day. For more information, please call Noah's Ark Waterpark at (608) 254-6351, or visit http://www.noahsarkwaterpark.com.
###