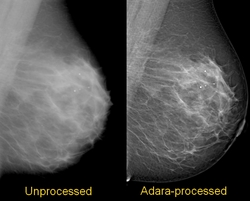 Reducing the time to display an image on the screen will improve throughput in the clinic and help improve biopsy procedures and patient discomfort while in compression.
Chicago, IL (PRWEB) November 28, 2010
Real Time Tomography, LLC and NVIDIA Corp. demonstrated today new, innovative image processing and reconstruction solutions for breast imaging that will dramatically improve clinical workflow and productivity.
Utilizing NVIDIA Quadro professional GPUs (graphics processing units), Real Time Tomography's new AdaraGPU™ software processes and enhances digital mammography images up to 10x faster than conventional CPU-based image processing solutions, greatly reducing the time to diagnosis. With its high image quality, flexibility and processing performance, AdaraGPU minimizes image delay – critical for interventional procedures, such as breast biopsy.
"Reducing the time to display an image on the screen will improve throughput in the clinic," says Dr. Catherine Piccolo, Director of Breast Imaging at South Jersey Radiology Associates in New Jersey. "It will also help improve biopsy procedures and reduce patient discomfort by minimizing the time that they are in compression."
AdaraGPU is the latest addition to Real Time Tomography's software product line for 2D mammography image processing and enhancement. AdaraGPU has an integrated, 'plug-and-play' design that makes it easy and cost-effective to enhance the performance of mammography systems.
"AdaraGPU underscores our continued commitment to help manufacturers deliver cost-effective products that improve image quality and clinical workflow," said Susan Ng, CEO of Real Time Tomography. "In developing a GPU-based version of Adara, we vividly see the incredible increase in speed and performance that NVIDIA Quadro technology will provide to our customers. There's simply no comparison, especially when shortening the time to diagnosis is so vital to doctors and their patients."
Visitors to the Real Time Tomography booth will also have the opportunity to see a pre-release demonstration of Briona™, a real time, GPU-accelerated 3D image reconstruction software solution for Digital Breast Tomosynthesis. With Briona, 3D tomographic images can be reconstructed in real-time from 2D projections at any depth, magnification and angle to the detector. Advanced features include the ability to change parameters dynamically to clinically target the reconstruction, and fast volume rendering. Briona is currently in beta development and for investigational use only.
"Real Time Tomography has realized the power of the GPU in unique ways with AdaraGPU and Briona," said Andrew Cresci, general manager, vertical market solutions, NVIDIA. "By leveraging the massively parallel processing of NVIDIA GPUs, they have enhanced the workflow to improve biopsy accuracy, boost clinician productivity and reduce patient discomfort."
Real Time Tomography and NVIDIA are demonstrating AdaraGPU and Briona at the Radiological Society of North America's (RSNA) Scientific Assembly and Annual Meeting, held in Chicago at the McCormick Place, in Booth 9516, North Building, Hall B, from November 28th thru December 2rd, 2010. More information can be found at http://www.realtimetomography.com.
About Real Time Tomography
Real Time Tomography develops state-of-the-art image processing and reconstruction solutions for next generation 2D and 3D imaging systems. Our mission is to save lives and reduce health care costs by developing technically innovative products that improve diagnostic accuracy and clinical workflow. Our imaging products are scalable, easy-to-integrate solutions available to manufacturers of medical imaging systems. These features help our customers reduce their development costs and accelerate their time to market.
# # #