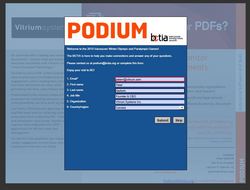 With our PODIUM program, the BCTIA is providing a meeting concierge service to facilitate introductions between media and guests and the innovative companies that we have here in BC
(Vocus) December 22, 2009
Vitrium Systems, today announced that their PDFSalesLeads™ application is being used to power a PDF-based e-book created for the Vancouver 2010 Olympic and Paralympic Winter Games. The http://www.bctia.org/podium [PODIUM PDF e-book connects visitors and guests of the 2010 Winter Games with innovative companies and technologies being developed in British Columbia.
PDFSalesLeads is a web-based application that organizations use to embed custom lead-generation forms inside PDF documents. By embedding the lead-generation form inside a document, readers can preview a few pages of content before submitting the lead form, rather than abandoning the document download as they do up to 95% of the time when presented with a web-based form.
The PODIUM PDF e-book is the centrepiece of theBritish Columbia Technology Industry Association's (BCTIA's) 2010 Games program and illustrates the talent and ingenuity that makes British Columbia a great place to live, work, study and invest.
"With our PODIUM program, the BCTIA is providing a meeting concierge service to facilitate introductions between media and guests and the innovative companies that we have here in BC", stated Pascal Spothelfer, President of the BCTIA. "The PDFSalesLeads tool from Vitrium Systems will allow us to make better connections as the e-book gets forwarded by business colleagues, Canadian embassies and consulates and by Olympic partners to guests who might be interested in connecting with the best that BC has to offer while they are visiting the Games".
"The PODIUM e-book is a great example of the potential of PDFSalesLeads" stated Peter Nieforth, CEO of Vitrium Systems. "Like many organizations, the BCTIA wants its public documents accessible, but they also want to know who is reading them so they can make a connection. Since the lead-generation form travels with the document, it is accessible to everyone who might receive the PDF and doesn't present a barrier to downloading it", Nieforth added.
"We're proud that as an innovative BC company Vitrium Systems has chosen to be part of our PODIUM program and more so that their solution will allow us to make even more connections during the non-stop activity of the 2010 Games", Spothelfer added. "Our team was very impressed with the simplicity of the PDFSalesLeads tool and we were able to insert our custom interactive form into the PODIUM book within minutes." "To make better connections with all our programs, we will soon be adding the PDFSalesLeads application to several other PDF books, whitepapers and reports that are available on our website."
To see PDFSalesLeads in action, download the PODIUM digital at http://www.bctia.org/podium
or trial it for free at http://www.pdfsalesleads.com.
About Vitrium Systems
Vitrium Systems, a software technology company, provides businesses and organizations with applications to control, track and interact with their PDF documents. Vitrium's customers benefit by:

Controlling the piracy and unauthorized distribution of digital documents;
Tracking document usage analytics and reader engagement;
Interacting with the reader and collecting data in ways previously unavailable in digital documents.
Vitrium's products, protectedpdf®, docmetrics™, and PDFSalesLeads™, are a range of easy to use applications delivered in Software as a Service (SaaS) and enterprise versions. Vitrium Systems is based in Vancouver, BC, Canada. Read more about Vitrium at http://www.vitrium.com.
About the BC Technology Industry Association
Growing BC's technology industry…one company at a time.
The BC Technology Industry Association is an industry-funded organization supporting the growth of British Columbia's strong knowledge economy. Our network of 2100+ member companies are all sizes and from all technology sectors and collectively employ over 70,000 workers in BC.
We deliver programs and services that directly influence the growth and success of our companies, such as PODIUM, our industry promotion program, Xcelerate, our executive education program, and PEER2PEER groups, where our members connect to share and learn.
As the voice of the technology industry, the BCTIA is committed to the ongoing growth, sustainability and prosperity of the technology industry and the transformation of British Columbia to a knowledge-based economy. http://www.bctia.org
###