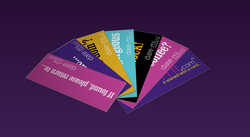 ... how would you feel if someone gave you a card? - be honest now.
(PRWeb UK) June 9, 2010
Newly launched online dating player, date-mi.com, has created what it calls your very own "dating agency" that you customize and control. Central to this new offering are personalised dating cards that allow you to make new connections that are spontaneous and safe. The dating cards have a personal message on the front and unique contact code on the back. They are about a 1/3rd the size of a business card and produced on sustainable paper.
Sufian Abdullah, CEO & Founder explains, "The online and offline dating worlds have been fused to deliver a dating experience that fits into your lifestyle. No matter where you are, what you are doing you will always be ready to take advantage of an opportunity to make a new dating connection. When you give someone a card you have not disclosed any personal information, you have taken some action, stayed in control whilst giving yourself time to reflect."
Your friends & family always have an interest in whom you might be dating and by giving them your dating cards you can actively involve them in the search. If they see someone at work, out socialising or just in the street they can act on your behalf. It is now a blind introduction rather than a blind date.
You could pimp your single friend, be outrageously flirtatious and all in a good cause. Your friend has the final say as they can see the other person online before they decide how to respond.
The idea of joining a traditional online dating site just does not appeal to many singles. Reasons for this include seeing these sites as too clinical, too time consuming or that they do not want to appear online and be found by colleagues, clients or even friends & family. On date-mi.com you can have an online profile that is only accessed by people that you give a card to and after just a couple of minutes you can have a dating experience that fits into your lifestyle. As each card has a unique code there is further protection as only one person can use the card.
You create your own cards and put a personalised message on the back of the dating card. date-mi.com has split the front card messages into a number of categories ranging from invitations such as "fancy a coffee?" to compliments that include "you're gorgeous". There are more adventurous categories such as sexy and flirt. Cards are printed, in packs of a 60 or 100, and date-mi.com delivers them to you normally within 3 working days. A pack of 100 cards costs £14.95 +p&p. Click on dating card designs to see the full range of dating cards available and enter a competition to have your design on the front of one of date-mi.com's new cards.
The cards can be used in a variety of different ways. They make the ideal Icebreaker, they can be used to communicate true feelings to someone you already know, they can be a compliment, a bit of fun and most importantly they can help you make new connections.
Within the dating world the online experience is here to stay, of this there is little doubt. The big question is how will it evolve to meet the changing demands and lifestyles of single people? date-mi.com developed its unique products and services as a response and solution to this question.
Sufian Abdullah says "It is almost impossible to put a value on what a piece of old technology, a card, can bring to someone's life when it is supported by new technology, the Internet. We do not want a generation of people who sit for hours at a computer screen searching databases for a date. History will show that the current proliferation of niche online dating subscription sites was just a passing fad. Why would anyone pay to use an online database? We want you to get away from the screen have fun and find a date. How many members do we have? How many people are there on the planet. Time for a great question, how would you feel if someone gave you a card? - be honest now."
# # #