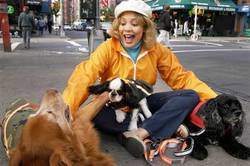 New York,NY (PRWEB) July 22, 2010
Love your pets more than your co-workers? Want to be your own boss? Pet care entrepreneur and businesswoman, Charlotte Reed, is offering a class that can facilitate your transformation from pet-owner to pet professional.
According to the 2009/2010 National Pet Owners Survey, 62% of U.S. households own a pet, which equates to 71.4 million homes. With so many pets and pet owners it is of no surprise that the pet-industry has enjoyed a steady increase despite unemployment and the recession. With the Washington Post reporting an unemployment rate of 9.5% and the economy slowly rebounding, now is a great time to consider entering the pet-industry and capitalizing on the 62% of pet-owning households.
"Waking up every day to a job that allows you to combine passion and livelihood is a terrific feeling. With the pet-industry constantly on the rise, now is the time to consider a new job with pet perks. My Pet Pro class will give you the basics to begin and the guts to get going," states pet care entrepreneur and businesswoman, Charlotte Reed.
Reed will provide class participants with an overview of twelve pet-friendly career options. Pet-professions include: Dog Walker/Sitter, Pooper Scooper, BloggerWriter, Veterinary Technician, Pet Chauffeur and more. Additionally, Reed will teach you how to get started, where to get educated about your chosen pet career, which national organizations can assist you, where to find clients, and how to avoid pet pitfalls. Whether you want to join the pet-industry on a part-time or full-time basis, Reed has something to teach you!
Attendees can choose either the August 10th or September 28th class held from 6:30-8:30pm at TRS Inc., 44 East 32nd Street, New York, NY, 10016. The class cost is $35.
To register for either class, visit: http://petproclasses.eventbrite.com. For information, call 1-888-286-6475 extension 83.
About Charlotte Reed
Charlotte Reed, a popular pet care and lifestyle expert, is also a notable entrepreneur. In 1995, she abandoned life on Wall Street as a corporate lawyer to open Two Dogs & A Goat Incorporated, a premiere, full-service pet care provider in New York City. Reed is the founder of The Business of Pet Writing Conference, and recently has created PetCentricAuthors.com, the only internet site dedicated to authors and their pet books. She is the author of THE MISS FIDO MANNERS COMPLETE BOOK OF DOG ETIQUETTE (Adams Media, 2007). Charlotte is the PeoplePets.com's Petiquette columnist and the Money Saving Pet Tips blogger for AllYou.com. Charlotte is also the Editor-in-Chief of a new magazine, CANINE CULTURE, ARTS AND STYLE which will be released prior to Westminster 2011. In addition to her writing career, Reed also works as a pet industry consultant. Although many manufacturers have hired her as a spokesperson, she also works with advertising, marketing, public relations, event and social media firms as a pet trend expert, providing a unique understanding of what drives pet consumer behavior. Charlotte is the owner of four dogs, two cats and one parrot.
###