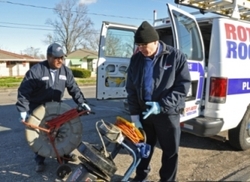 Cincinnati, OH (PRWEB) April 1, 2010
Roto-Rooter, America's largest plumbing repair and drain cleaning service provider will be featured on the April 4 episode of the hit CBS reality television show UNDERCOVER BOSS.
Roto-Rooter Services Company President and COO, Rick Arquilla, experienced a week undercover in his own plumbing company using the alias of Hank Denman, a rookie Roto-Rooter plumbing service technician assigned some of the dirtiest plumbing jobs in the company. It was an adventure and an emotional journey for Arquilla who learned a lot about himself, the company policies he put in place and the men and women plumbers who have made his company so successful.
Each week, UNDERCOVER BOSS follows a different senior executive as they leave the comfort of their corner office for an undercover mission to examine the inner workings of their companies. While working alongside their employees, they see the effects their decisions have on others, where the problems lie within their organizations and get an up-close look at both the good and the bad while discovering the unsung heroes who make their companies run.
Scenes for the show were taped at Roto-Rooter's corporate headquarters in Cincinnati as well as Roto-Rooter plumbing company locations in New Orleans, Chicago and the Roto-Rooter manufacturing plant and world headquarters in West Des Moines, Iowa.
While on the job and undercover, Rick Arquilla got filthy, stinky and exhausted working shoulder to shoulder as a local plumber with his employees who had no idea he was their boss. He cleaned sewers and drains with three different service technicians in New Orleans and even lay in sewage while working beneath a house. He tried his hand at building the company's namesake Roto-Rooter machines at the Roto-Rooter factory in Des Moines and in Chicago he dispatched plumbers from a 24-hour company call center late at night.
The 57-year-old Arquilla, who is a native of Mt. Vernon, Ohio, came away from the experience with a newfound respect for all of his employees and the hard work they do to keep America's plumbing working and sewer pipes draining.
UNDERCOVER BOSS has been a runaway hit on CBS. Over 38 million viewers tuned in for the first episode, which followed The Super Bowl. Since then the show has dominated its 9:00 p.m. (EDT) time slot on Sunday nights. The show has featured senior executives from some of America's most successful companies, including Waste Management, White Castle and 7-Eleven. The Roto-Rooter episode will air Easter Sunday, April 4 at 9:00 p.m. (EDT) on CBS.
Roto-Rooter was established in 1935 and is the largest provider of plumbing repair and drain cleaning services in North America. A wholly owned subsidiary of Chemed Corporation, Roto-Rooter operates businesses in more than 115 company-owned territories and more than 500 franchise territories, serving approximately 90 percent of the U.S. population and 41 percent of the Canadian population. For more information about Roto-Rooter visit http://www.rotorooter.com or follow Roto-Rooter on Facebook and Twitter.
National Contact:
Paul Abrams, PR Manager
O) 513.762.6434
Cell) 513.702.5631
Paul(dot)abrams(at)rrsc(dot)com
###