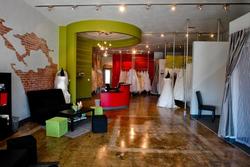 "We carry sample gowns up to size 32 because women of all sizes deserve to look beautiful on their wedding day."
Phoenix, AZ (PRWEB) March 26, 2010
Strut, a full service bridal salon located in mid-town Phoenix, opened on Tuesday, March 9th. The newest wedding store to open in the metro area, Strut is focusing on brides size 12 and up and the plus size wedding dress market.
"My own wedding dress shopping experience here was disappointing. There was a very limited selection, especially of more contemporary gowns," stated co-owner Ann Campeau. "We saw a huge need for this type of store. US women are, on average, a size 14. Wedding gowns run small, and other salons typically carry samples in size 10 or 12, which fits approximately a 'street clothes' size 8. That leaves a lot of women unable to try on their dream wedding dress."
Strut carries major wedding dress brands, including Allure, Pattis, Justin Alexander, Anjolique and more. In addition, the store sells foundations (slips and bras), as well as a large selection of veils and headpieces. "We've brought in the same dresses brides see in wedding magazines—but in sizes that curvy girls can actually try on!" added Campeau. "We carry sample gowns up to size 32 because women of all sizes deserve to look beautiful on their wedding day."
Strut also maintains a blog, which focuses on helpful tips for wedding dress shoppers of all sizes, and can be found on their website at http://www.strutbridalsalon.com.
Strut is located at 542 W. McDowell Road, Phoenix, AZ 85003. Phone: 602-252-4414, Fax: 602-252-1373, email: ann (at) strutbridalsalon.com.
###