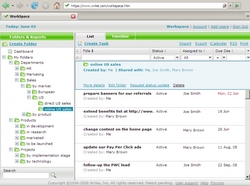 Our aim was to be able to keep everyone up-to-date without spending half a day on the phone or typing dozens of emails
San Jose, CA (Vocus) July 7, 2010
Working with numerous external partners from all over Europe, Hildebrands GmbH found it challenging to organize effective collaboration in multitasking environments. Given the distance between team members, a lot of time was consumed by phone calls and emails to specify project details. The company has found the solution to make workflow clear and transparent and thus save time on project communication routine with Wrike.com, a leader in email-integrated project management software.
On every project, Hildebrands cooperates with several design agencies and suppliers. As the number of projects was increasing, project managers had to invest more time into communicating all the data, instead of focusing on the main project goals. Hildebrands' executives realized they needed a project management tool that would help to keep the flow of information in order. "Our aim was to be able to keep everyone up-to-date without spending half a day on the phone or typing dozens of emails," says Gunter Hildebrand, managing partner at Hildebrands.
Trying one project management tool after another, Hildebrands was looking for one that would be very functional, yet highly intuitive and, most importantly, easy to adopt for their partners. Wrike.com turned out to be the project management solution meeting all these criteria. "This project management software was really simple to use. It had a fresh look and a neat interface. One more advantage was the variety of subscription plans," adds Hildebrand.
Wrike.com is easily adopted by Hildebrands' partners. This fosters smooth and productive collaboration. Regardless of the distance, all team members are kept up-to-date without any extra effort. "If you need to get an update on the progress of a task, you can do it right in your workspace. You simply click on 'Request status update' below the task description, and a predefined message is sent to the responsible team member," explains Nic Bryson, VP of customer relations at Wrike. With Wrike.com, Hildebrands' team saves 25% of the time spent on project communications, and no tasks get lost along the way.
To sign up for a free, 30-day trial of Wrike, please visit http://www.wrike.com.
About Wrike
Wrike is the leading on-demand, online project management and collaboration solution. It provides teams with a unique platform for collaborating on multiple projects in one workspace in real time. Wrike's collaboration features give a significant productivity gain to various small and midsize companies and are known to save managers up to 30 working hours per month. Its email integration is the most advanced in the project management space. Wrike, Inc. has patents pending. Founded in 2003, Wrike, Inc. is a privately held corporation located in California.
###