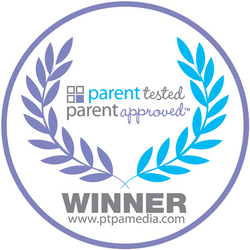 Seeing the PTPA Winner's Seal on a product package or website helps parents identify products that have been tested and recommended by other parents. It's like shopping with your best friend
(Vocus) October 7, 2010
Imagine your childs art creating musical notes, monster shaped sticky scabs that heal worn and torn clothing, and a vacuum that brings new life to your carpets? Musicolor, Grab A Scab and Beam by Electrolux are just a handful of the latest winners from Parent Tested Parent Approved (PTPA).
PTPA is North America's largest parent tester community – a credible third party resource for parents.
"Seeing the PTPA Winner's Seal on a product package or website helps parents identify products that have been tested and recommended by other parents. It's like shopping with your best friend," says PTPA Founder and CEO, Sharon Vinderine.
Since 2008, PTPA has evaluated thousands of products and services from leading manufacturers and emerging brands. Because independent parents evaluate these products in their own homes, PTPA winners are chosen based on merit and consumer experience – not on commercial considerations.
Here are just a few of the innovative new products to receive the PTPA Winner's Seal for Fall 2010:
Amazon.com – Not your ordinary online store. Fall in love with them for their frustration free packaging, goldbox deals and constant useful ratings and suggestions.
Paper Jamz- Guitar by Wowwee – Play guitar like a star using your own realistic paper guitar. Strum over the surface and your child can rock out without rocking out your wallet.
ParentsCanada Magazine – As readers embark on this wild ride called parenthood, ParentsCanada magazine is the voice of reality parenting.
eBay Classifieds - looking for a job, buying a car, selling your old bike, lining up a babysitter, or warming up to your kids' plea for a puppy, newly launched eBay classifieds is your free go to one stop shop.
For a complete list of award winners, visit the newly updated website: PTPA Media
About PTPA Media Inc.
PTPA Media provides an objective framework for appraising and promoting new products designed to enrich family living. The company's mission is to marry innovative companies with discerning consumers, to improve consumer access to quality products and services for their families and homes.
###