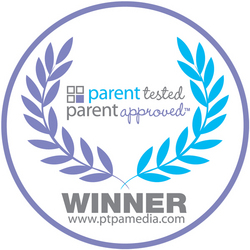 As a working single mother, I go to PTPA for unbiased and 'safe' advice...from parents, not marketers pushing a particular product
Toronto, Ontario (Vocus) June 29, 2010
Companies that submitted products for testing by PTPA Media parent product testers can give themselves a pat on the back for their patience. The PTPA Media Award Winners for the Latest and Greatest summer campaign are here, and trust us, these products are so cool and trendy you'll want to be the first to get your hands on them.
Curious?
Here's a sneak peak at this campaign's winners:

Kodak Play Sport Camera
Baby Einstein Lights and Melodies Mirror
Cool Canuck Corp's Cool Cloth
Shark 2 in 1 Vac then Steam
Virtual Nerd
TOT Warehouse Kangasac Litterless Lunch System
What do they do?
A rugged pocket-sized camera that is waterproof and lets you easily share with family and friends on YouTube and Facebook. An introduction for babys' to colors in three different languages with a portable mirror. A cloth that stays cool for hours without having to constantly moisten it. A 2-in-1 Vacuum and steam cleaner for your floors, and too busy to help your children with homework? A website that helps your children with their homework questions. Finally, teach your children to be environmentally friendly with a lunch system that doesn't leave behind plastic bags or wrappers.
Our parent testers approved these exciting products and found these impressive products to be latest and greatest out there!
PTPA winners are chosen based on merit and consumer experience - not on commercial considerations. As a result, the PTPA Seal has become an international symbol of quality, effectiveness and value in the family marketplace.
Consumers looking for practical, high-quality products and services can rest easy knowing that products bearing the PTPA Media "Winner" Seal are indeed "Parent Tested, Parent Approved."
Even celebrities look for the PTPA Media Seal.
"As a working single mother, I go to PTPA for unbiased and 'safe' advice...from parents, not marketers pushing a particular product," says actress and author Josie Bissett, star of Melrose Place and mother of two school-age children.
Companies ranging from Disney and Johnson's Baby to Snapfish by HP to Baby Einstein and Cisco submit products for testing by PTPA's network of over 36,000 volunteer product testers. To earn the seal, a product or service must meet with the approval of parent product testers.
"We are honoured that these winning companies have chosen to have their products tested by our community of parent volunteers" says Sharon Vinderine, CEO of PTPA Media Inc. "Being willing to go through the testing process is really a testament to the quality that they put into their offering to consumers. The Seal of Approval that accompanies these winning products and services provides a trusted reference point for families looking for guidance when making purchases for their families."
For a complete list of the Latest and Greatest Summer 2010 award winners, visit our Visual Winners Announcement
About PTPA Media:
PTPA Media provides an objective framework for appraising and promoting new products designed to enrich family living. The company's mission is to marry innovative companies with discerning consumers, to improve families' access to quality products and services. PTPA Media takes pride in its parent testers, because parents who look for the seal of approval know that they have been tested by other families.
###