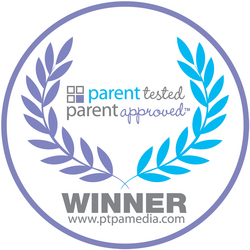 As a working single mother, I go to PTPA for unbiased and 'safe' advice...from parents, not marketers pushing a particular product
(Vocus) August 23, 2010
A camera that lets you tag people for easy upload to social media, a DVD system that introduces children to sports and movement, and a software that lets you convert an average picture into a piece of painted around are among the innovative new products that have just won the PTPA seal of approval from North America's parents.
Consumers looking for practical, high-quality products and services can rest easy knowing that products bearing the PTPA Media "Winner" Seal are all "Parent Tested, Parent Approved."
Because independent parents evaluate these products in their own homes, PTPA winners are chosen based on merit and consumer experience – not on commercial considerations. As a result, the PTPA Seal has quickly gained recognition as an international leader in certifying consumer products for quality, effectiveness and value.
"As a working single mother, I go to PTPA for unbiased and 'safe' advice...from parents, not marketers pushing a particular product," says actress and author Josie Bissett, former star of Melrose Place and now a mother of two school-age children. "PTPA makes it much easier to find products that enrich my children's lives. Who better to trust than other parents who have done their homework?"
Companies ranging from Johnson's Baby and HP to Disney and Wells Fargo all submit their products for testing by PTPA's network of over 36,000 volunteer product testers. Only those that receive high marks from PTPA's unbiased, knowledgeable testers are awarded the PTPA Seal of Approval.
Here are just a few of the innovative new products to receive the PTPA Winner Seal of Approval:

Today I Ate A Rainbow: An magnetized interactive nutritional chart that makes eating fruits and vegetables fun for your child.
Okkatots Travel Baby Depot Bag: A bag that fits all of your parenting needs that even comes with its own diaper changing station and DVD holder.
X3 Hand Sanitizing Kit: An alcohol free hand sanitizer that keeps hands clean without the sting and drying sensation of alcohol based sanitizers.
Jumstart Get Moving: the ultimate family sports game with fitness expert Brooke Burke. With more than 15 sports challenges in 11 exotic arenas, Get Moving is the fun, new way to keep your family active.
Wild Science Bath Bomb Factory: Create Bath Bombs, Soapy Volcanoes, Crackling Balloons and more Learn about carbon dioxide and acid and base reactions.
"Hundreds of our parent testers were hard at work this summer reviewing products for our Fall 2010 winners announcement. At PTPA Media, we are proud to have built a community of parent testers who rely on each other and our Seal of Approval for their purchasing decisions," says Sharon Vinderine, CEO and founder of PTPA Media. "Our awards program has become an invaluable resource in helping families source the latest and greatest in products and services for their families."
For a complete list of Fall 2010 award winners, visit http://uponline.com/cgi-bin/viewmessage?s=1935.12419
About PTPA Media
PTPA Media provides an objective framework for appraising and promoting new products designed to enrich family living. The company's mission is to marry innovative companies with discerning consumers, to improve families' access to quality products and services.
PTPA Media Contact Information:
Website: http://www.ptpamedia.com
Kathryn Howell
Director of Marketing
Tel: (905)738-1447x222
Email: kathryn(at)ptpamedia(dot)com
###