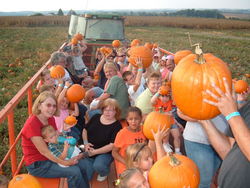 You can't believe the number of pumpkins out there
New Park, PA (Vocus) September 15, 2010
Nine acres planted at 4,000 pumpkin seeds per acre and each pumpkin vine produces between five to twenty pumpkins. A guess of 20,000 pumpkins to choose from in the York County Pennsylvania farm's pumpkin patch might be low. Maize Quest at Maple Lawn Farms opens the 14th annual pumpkin picking patch to the public for pick your own pumpkins Sept 25, 2010.
"You can't believe the number of pumpkins out there," says Hugh McPherson, Maize Quest's Maze Master and Pumpkin wagon driver. "The leaves are still green and covering half the crop, but you can't walk 5 feet without running into a beautiful pumpkin."
Pumpkins are a tradition at Maple Lawn Farms, a 5th generation apple orchard and pumpkin patch. McPherson is following in his father's footsteps by opening the farm for pick-your-own pumpkins and apples during the fall harvest season.
"It's chance to connect families, and especially young children, to the source of their food," says Paul McPherson, 4th generation farmer and Hugh's father. "There is something special about choosing your favorite apple or pumpkin from the tree or vine that created it."
When Hugh McPherson graduated from Penn State University 14 years ago, he brought home some new ideas for bringing his generation of young families to the farm. He created the Maize Quest Fun Park and Corn Maze essential building acres of entertainment in the cornfield, then connecting cornstalks to education. Visitors take a wagon ride to the pumpkin patch on the "Pumpkin Express", an enormous orange wagon that seats up to 75 pumpkin pickers and pumpkins per ride. Along the way, guests listen to a brief history of the farm and learn fun pumpkin facts.
"When people are having fun, they are ready to learn" says Matt Posey, who planted the pumpkin patch and the corn for the Maize Quest corn maze. "It's great to see parents showing kids how to choose and pick their pumpkins. They are really making a connection."
Educational groups may choose from a number of specialized programs at Maple Lawn Farms and Maize Quest. Preschool fruit and pumpkin tours focus on kids identifying farm products and picking apples. Elementary through middle school groups focus on communication, writing, and listening skills as they challenge the corn maze, older students may choose a giant scavenger hunt led by global positioning (GPS) units called geocaching. Each tour is customized to suit the teacher's requirements.
Maple Lawn Farms is a pick-your-own paradise for local food lovers. The enormous pumpkin patch is just the beginning. Peach and apple picking season is here with a dozen varieties of tree fruits. The farm's market offers pre-picked fruit, local produce and a weekend bakery that features apple dumplings and cider doughnuts.
"This is the right time for local food and local fun," says Paul McPherson. "People are staying closer to home, spending time with their families and the farm and maze are an affordable day of fun."
To visit or schedule a group tour or event are the Maize Quest Fun Park or Maple Lawn Farms call 1-866-935-6738 or visit http://www.mazefunpark.com, click in the Facebook Fan Box and become a "Fan" for updates and special events. Fruit picking and farm market information is available at http://www.maplelawnfarms.com.
###