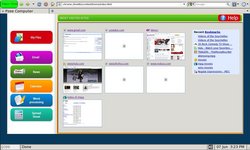 there has to be a computer out there that uses the latest technology, is user-friendly, and hassle-free
College Park, MD (PRWEB) June 10, 2010
As computers have evolved, they have become more difficult to use and much harder to maintain. As more features are added they continuously become more and more complicated which make them prone to more problems. This made us think, "there has to be a computer out there that uses the latest technology, is user-friendly, and hassle-free." The problem was, there wasn't one. That is when Pzee Computer was born.
Fifteen year industry veteran Kevin Thompson has always been fascinated by computers, math, and technology. As a graduate of Worcester Polytechnic Institute, he was recruited by the Department of Defense where he spent his time researching communication security. Throughout his career he was constantly bombarded with tech support questions from friends, family, and even perfect strangers. This led Kevin to start thinking about ways to make computers easier for people without Computer Science degrees to use. With this task in mind, he started work on building a prototype for a more user-friendly computer.
The user-friendly computer that Kevin developed eventually evolved into the Pzee Computer- a computer designed specifically with the senior-user in mind – a senior computer. Pzee Computers have large easy-to-read buttons, a built-in reset function, and full software and hardware support. Everything a senior computer needs in order to meet the demands of today's active senior lifestyle.
The features that go into this specially designed senior computer help make it a comprehensive integrated solution able to address all common computing needs. It is tailored to accomplish tasks at hand rather than forcing the user to navigate through endless applications, and it is more intuitive than an application-based user interface. As-a-matter-of-fact, it is so intuitive that it can self-correct 90% of problems that can virtually shut down any other computer. Pzee Computers remove the burdens to easy computing allowing seniors to be independent while being connected to and interacting with their families, friends, and social groups.
In addition to a user-friendly interface, Pzee Computer boasts other benefits that make it the ideal senior computer:

World-class software and updates – Word Processing (Microsoft® Word compatible), Spreadsheet (Microsoft Excel® compatible), Internet Browser, and much more!
Anti-virus/security protection included
No need for costly subscriptions that only cover the basics. 100% support including hardware and software
Virtually unbreakable – and if it does, a new one will ship within 24 hours of receiving notification.
Pzee Computers are built using the latest technology, ensuring that Pzee Computers are the easiest and most hassle-free senior computers available.
About Pzee Computer:
Pzee Computer was founded in 2010 by a group of computer professionals who wanted to do more than build computers. They wanted to help people get connected in the simplest way possible. The mission at Pzee Computer is to give everyone access to a computer that is easy to use and worry-free.
Pzee Computer uses the latest technology to ensure that our computers are user-friendly and hassle-free. The Pzee Computer engineers come from top schools across the country and have decades of software and hardware experience that goes into every Pzee Computer built.
For more information about the first 100% hassle-free senior computer, visit Pzee Computer at http://www.pzeecomputer.com
# # #