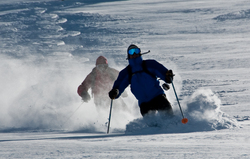 (Vocus) April 21, 2010
CMH Helicopter Skiing announces they are rolling back their 2011 and 2012 Heli-Ski prices to the published 2010 rates. No increase, no gimmicks, no fine print. The move comes as a response to the fluctuating economy and is CMH Heli-Skiing's effort to enable guests to book with greater ease.
Marty von Neudegg -- Director of Corporate Services for CMH Heli-Skiing – speaking from the company's base in Banff, Alberta said, "Since its inception 46 years ago, CMH has stayed out of the last minute discount game and while 'price insurance,' may be a new phrase in travel, it's always been our way. Guests can rest assured that the skier sitting next to them in the helicopter didn't pay any less by booking at the last minute. We are excited to be able to offer these steady rates and it is one more way of showing our guests that we're looking out for them."
To know more, visit: http://www.cmhski.com or phone 1-800-661-0252.
About Canadian Mountain Holidays (CMH Heli-Skiing):
Offering heli-skiing since 1965, Canadian Mountain Holidays is the oldest and largest heli-skiing and heli-hiking operator in the world. From their head office in Banff, Alberta, CMH operates helicopter adventures from 11 different areas located in the Bugaboo, Purcell, Selkirk, Kootenay, Monashee, and Cariboo ranges of British Columbia, Canada. Helicopter skiing takes place from December through April. CMH Summer Adventures include hiking, walking, mountaineering, yoga, and via ferrata adventures taking place from July into early September.
###