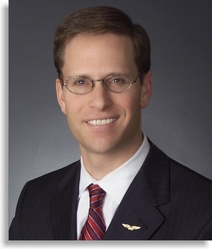 Bi-monthly speakers on hot business topics add value and appeal to networking with fellow Duke alums
Atlanta, GA (Vocus) October 5, 2010
DeKalb resident and Atlanta real estate executive Jason Jones was recently named a recipient of the 2010 Forever Duke Award. Each year, this award recognizes individual alumni for excellent volunteer service to Duke University.
Mr. Jones, principal of CresaPartners Atlanta, was instrumental in creating the Duke Business Breakfast series, an alumni gathering where business leaders who share the Duke affinity connect.
"Bi-monthly speakers on hot business topics add value and appeal to networking with fellow Duke alums," said Jason Jones.
Mr. Jones earned a B.A. in Political Science at Duke University in 1991. He then served eight years in the U.S. Navy during which time he flew A-6 Intruder attack jets off aircraft carriers.
After departing the Navy, Mr. Jones earned an M.B.A. from Arizona State University and completed a 15-month solo trip around the world. He wrote and published a book about the adventure titled NOMAD: Letters from a Westward Lap of the World. In 2002, he returned to Atlanta, his hometown, and began his career in commercial real estate.
"Jason's military, travel and academic background and experiences give him a unique depth of character that helps him guide his clients to the most effective real estate solutions," said Billy Hobbs, CresaPartners Managing Principal.
A member of the Atlanta Commercial Board of Realtors, Mr. Jones enjoys training with P90X and reading in his free time. He is also an active member of Buckhead Church. A resident of Dunwoody, he and his wife Natalie are the parents of a daughter.
Based in New York City, CRESA Partners is an international corporate real estate advisory firm exclusively serving space users. It specializes in tenant representation, portfolio administration, project management and capital markets expertise. Worldwide, the firm provides service in 35 countries and more than 125 cities - including 54 North American CresaPartners locations. For more information, access http://www.cresapartners.com.
###