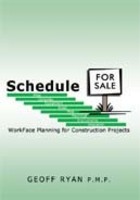 Edmonton, Alberta (Vocus) July 1, 2010
With the recent push for "Green Industry", the public has heard about everything from making cars greener to cooking greener. But what about construction? To date, there has been very little mentioned regarding making the construction industry green, until now. Schedule For Sale (published by AuthorHouse) by author and contractor Geoff Ryan outlines what is known as WorkFace Planning, how it came about and how to implement it on construction projects.
Schedule for Sale is a guide book on how to apply WorkFace Planning. This is a process that has been identified as an industry best practice for optimizing the productivity of construction teams on large projects. WorkFace Planning is known to optimize construction productivity and reduce the time needed to complete a project, which leads to reduced costs and reduced energy consumption. Therefore the application of WorkFace Planning is being heralded by the industry as the platform for Green Construction.
Schedule for Sale has 12 chapters, which progressively elaborate the complex processes and principles that are necessary to fully optimize construction. These chapters come under four headings; Basic Principles, Resources, Information Streams, and finally Total Information Management. Each section and its underlying chapters outline everything needed to employ a successful WorkFace Planning model. From pre-project planning and resource allocations to 4D simulation tools and how to implement them, Schedule for Sale provides a comprehensive road map.
Schedule for Sale also has an interactive website that allows the readers to download all of the documents that appear in the book and utilize the interactive flow charts. This is designed to allow the readers to develop a comprehensive set of documents that will facilitate their application of WorkFace Planning.
About the Author
Geoff Ryan grew up playing Australian Rules football and cricket in the wilds of Melbourne, Australia. After high school he met a young Canadian girl, fell in love and left the outback for the lush lands of Alberta, Canada where his wife's family lived. Ryan became involved in construction and is now a project manager for an engineering/construction firm. Besides authoring Schedule for Sale, Ryan has also authored several papers on construction productivity. In addition to his professional accomplishments, Ryan is a husband and father who enjoys watching his son play hockey.
AuthorHouse is the premier book publisher for emerging, self-published authors. For more information, please visit http://www.authorhouse.com.
###