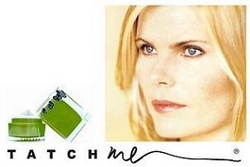 Make Love, Look Younger !
Milan, Italy (PRWEB) July 16, 2010
The iconic Italian beauty product manufacturer Tatchme® releases the first in a series of eBooks approaching skincare from a new perspective.
The "Sex and the Skin" free eBook explains the connection between the health of the skin and the general well-being that can prolong sexual health over the years. A fascinating topic that not too many people talk about!
An elixir of emotions, sex is a beauty treatment. Making love is a real skin experience – th5 unbelievable power of human touch. Touch gives us the sense of security, belongingness, acceptance, love and confidence. The experience of touch linked to a thought is really what constitutes emotion. Our skin is a set of emotions.
Visit the blog and download your free copy here: http://sexandtheskin.blogspot.com/
Table of contents:
> The Secret Link Between Skin And Sex
> Make Love, Look Younger!
> 10 Surprising Health Benefits Of Sex
> Natural Aphrodisiac & Antioxidant Foods
> Sex Makes People Cheerful, Healthy, Beautiful… And More Intelligent
> What Is Healthy Sex?
About Tactchme® - Tatchme® products are endorsed by Mariel Hemingway, an Academy Award and Golden Globe nominated actress. Mariel, the company's global ambassador, is a timeless celebrity who eagerly embraces nature, good health and the best that life has to offer. She perfectly embodies Tatchme®'s healthy yet glamorous lifestyle.
Tatchme® was founded in 2009. This year the company successfully launched BREEZE, its first natural skin care product line, after investing two years of rigorous research into the benefits of hematite mineral. Harvested in Portofino, Italy, hematite's stimulating action on collagen synthesis fills the wrinkles in-depth, producing a noticeable plumping-up effect on the skin.
To boost its effect, each formula has been enriched with many complementary natural active ingredients and compounds. Creams are also enriched with aromatherapy adding pure essential oils in order to stimulate the sense of smell.
These mineral anti-aging creams come in a beautiful Murano glass jar, made by renowned glass craftsmen in Venice. All of our products are completely natural and parabens free.
Made in Italy, Tatchme is the authentic luxury you deserve! For further information, please visit company's website.
Tatchme® is now available online at http://shop.tatchme.com. Shop now!
###