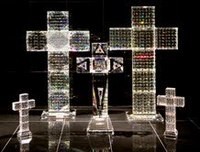 because while to some the cross represents only death and darkness, this cross is all about light. It represents God's light in this world.
Kansas City, MO (Vocus) June 18, 2010
Salem Stained Glass President Al Priest announced today that his company will display an array of Kuhn Sacred Glass at the Stained Glass Association of America's KC2010 Summer Conference June 28-30 in Kansas City, Missouri. The display will include several of Kuhn's dazzling crystal crosses, similar in concept to the cross that Kuhn and Priest will present to Pope Benedict at the Vatican on September 29. The 32 1/2 x 19-inch work of art that the Pope will receive at a Papal Mass contains 15-thousand facets of clear optical grade crystal and symbolizes the Light of God. The center of the cross is tinged with crimson to represent the Sacred Heart of Christ, a symbol of devotion to Catholics and the Catholic Church.
"We are honored and humbled by this opportunity to present our work to the Holy Father," Kuhn said on first learning of the forthcoming Papal audience, "because while to some the cross represents only death and darkness, this cross is all about light. It represents God's light in this world."
Salem Stained Glass represents Kuhn Sacred Glass to the church and sacred marketplace and to the trade. Jon Kuhn is acknowledged as the world's foremost cold glass artist. His work has been prized by collectors for many years and is represented by major art galleries on three continents. Kuhn sculptures are included in the permanent collections of over 40 museums, including New York's Metropolitan Museum of Art, The Carnegie Museum, National Museum of American Art and The White House Permanent Collection. The artist's work extends even to art case pianos: case in point, the $1.2 million Kuhn-Bösendorfer, which is available by commission through Kuhn Studios and participating Bösendorfer dealers.
The alliance of Kuhn's work and Salem Stained Glass began when a Moravian church patron asked the artist to create a stained glass depiction of the Lamb of God. Rather than disappoint (since he does not do stained glass), Kuhn turned to Al Priest at Salem Stained Glass to do the work. The same patron also commissioned a Kuhn crystal cross for the church sanctuary, which set Kuhn Sacred Glass in motion.
Priest's company also offers a line of stained glass with Kuhn insets. When set into translucent glass panels, Kuhn's work adds dimension -- and an extraordinary radiant quality -- to the warm glow of traditional stained glass. Some call the combination of Kuhn's art and Salem Stained Glass deeply spiritual, in a way that words often seem inadequate to describe.
Kuhn and Priest have organized an inspirational journey to Rome beginning in mid-September for their presentation of the Pope's cross. Patrons, collectors and friends who choose to participate will enjoy reserved priority seated during a Papal Mass in Rome on September 29, according to Archbishop Pietro Sambi.
The eight-day trip originates in Charlotte, N.C. on Sunday September 26 (returning on Sunday, October 3) and will include sightseeing visits to Vatican museums and Sistine Chapel, St. Peter's Square and the famous basilica as well as the Colosseum and other sites in and around the Eternal City plus optional tours to nearby mountains and a Tuscany coastal village.
People of all faiths who would like to accompany Priest, Kuhn and their party on this inspirational journey are invited to contact Peggy Patella or Linda Foss at Piedmont Travel.
Contact:
Piedmont Travel
Peggy Patella
ppatella(at)piedmonttravel(dot)com
Linda Foss
lfoss(at)piedmonttravel(dot)com
336-723-5077
For additional information about Jon Kuhn and his work:
http://www.kuhnstudio.com
# # #