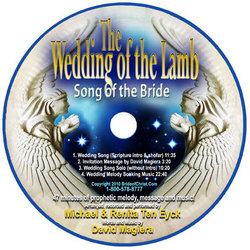 "The Wedding of The Lamb" song (free on site), has evoked extraordinary passion and tears from believers in more than 30 countries...now after a decade of assisting conferences, I have created a complete package around this anointed music." D. Magiera
Arlington, TX (PRWEB) March 30, 2010
Bride of Christ Ministries, an innovative, online ministry founded by David Magiera, offers a comprehensive, exquisitely illustrated Christian conference package -- complete with fulfillment materials -- called THE BRIDE OF CHRIST CONFERENCE PLANNER.
The BOC Conference Planner is built upon a song titled The Wedding of The Lamb. "The song, available for free listening on our site, has evoked extraordinary passion and tears from believers in more than 30 countries. Now, after a decade of facilitating conferences with this anointed song, I have created a complete conference package that will bring excellence – and His anointing -- to any denominational venue," says Magiera.
The Planner is artistically designed around images of two facing angels and a descending dove, both inspired sculpture creations by Magiera. The conference teaching guide titled Oh God! Prepare Me As Your Bride, is also included in the Planner. The teaching guide is available free online at BrideofChrist.com. The conference theme is derived from the promise given in Revelation 19:7, "Let us rejoice and be glad and give Him glory! For the wedding of the Lamb has come, and His bride has made herself ready."
The Conference Planner includes: Song CD, "Oh God! Prepare Me" Teaching Guide, Scripture-themed (Rev. 19:7) Wedding Invitations, (Rev. 19:7) T-Shirts, Praise Flags, Dance Ribbons, Attendee Gift Bookmark and Event Banners which stand 9 ft high. In addition, BOCM offers assistance with email announcements and mailing material design.
Magiera is an artist, entrepreneur and product inventor with a gift for artistic innovation. He is the president and founder of Fireskewers LLC and the designer of Flaming Skewers, a featured entrée aboard all Holland America Cruise Ships. He is also a home designer/builder, sculptor, songwriter, game inventor and a multiple patent holder.
###