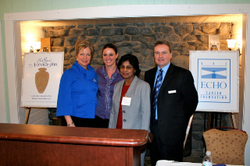 "I believe cancer patients, with physician approval, can benefit by relaxing in a resort setting with spa services to address their special needs in a safe way, and enjoy lowered anxiety levels, better sleep and reduced discomfort," said Stevenson-Flom.
NORWICH, CT (PRWEB) March 2, 2010
The Spa at Norwich Inn and the non-profit ECHO Cancer Foundation have announced a new "Fragile Client" menu of special services at the spa to ease the stress and aid the healing of people undergoing chemotherapy or living with other chronic diseases, including diabetes and multiple sclerosis.
The program was announced by the property's general manager, John G. O'Shaughnessy, and by Laura Stevenson-Flom, executive director of the ECHO Cancer Foundation, who is herself a licensed massage therapist. Also speaking in support of the program were Dr. K. Jagathmbal of the Eastern Connecticut Hematology and Oncology Group in Norwich, who cited medical studies that show complimentary therapies like massage, when delivered properly, are of real benefit to cancer patients, and Danielle Knerr, spa director of The Spa at Norwich Inn.
According to Knerr, who is certified in Oncology Massage, specially trained staff will protect fragile clients by, for example, omitting the trimming of cuticles in manicures and pedicures to protect the integrity of the skin. In massages, the therapists will use a reduced level of pressure to keep clients comfortable, and all lotions and ingredients used in these services were selected because they will not irritate the senses or the skin of fragile clients. These services are available to any member of the public with the permission of his or her physician, she said, and the spa can provide a full description of products and services for physicians.
The Fragile Client spa services are:

Wellness Massage Therapy, including a consult on the guest's special needs and a massage that provides gentle pressure to promote relaxation and ease tension. 50 minutes, $95 plus tax and service charges
Relaxation Facial, which omits pore extraction and steam and instead removes impurities with unscented products. A relaxing facial massage and masque application stimulates circulation and restores hydration. 50 minutes, $95 plus tax and service charges
Manicure or Pedicure (each lasts 25 minutes and each costs $30 plus tax and services charges. Includes hand or foot soak, shaping of nails, gentle massage with unscented lotion and application of nail polish.
Hydrating Body Antidote includes a very gentle body exfoliation with a fine-grain organic salt, which is then removed with warmed towels. After application of a luxurious, unscented lotion, the client continues to relax during a gentle face and head massage. 50 minutes, $135, plus tax and service charges.
More information is available at http://www.thespaatnorwichinn.com/spa_treatment_fragileclient.aspx
The Spa at Norwich Inn, located mid-way between Boston and New York, is a 100-room property that includes accommodations in the 1930 Georgian Colonial Revival-style inn and in adjacent villas. It was voted Best Destination Spa by the Editors of Connecticut Magazine and recognized for "Best Pampering in Connecticut " by the Editors of YANKEE Magazine in 2009. For spa, restaurant and overnight reservations, call 860-886-2401 or visit http://www.thespaatnorwichinn.com.
###