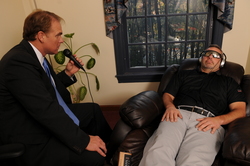 Competitors feel tremendous stress; their sports mental training can become the edge that makes the difference.
Pittsburgh, PA (PRWEB) March 22, 2010
When Joshua Richmond, US Gold Medalist in Men's Double Trap shooting at the ISSF World Cup competition (held in Acapulco, Mexico), needed to ramp up his sports training schedule in a hurry, he turned to a group of proven experts to help him prepare. Among them was Pittsburgh Hypnotist and Mental Trainer, Dan Vitchoff, M.S. Ed; founder of the PA Hypnosis Center in Pittsburgh; Mental Training and Performance Coach; and Certified NLP Trainer.
Richmond, whose 'day job' is as a member of the U.S. Army Marksmanship Unit at Ft. Benning, GA, is in preparation for the 2012 Olympics in London. But participation in an Army School this past winter, along with the birth of his first child, had made it difficult for Richmond to prepare for the ISFF World Cup in the way he normally would. Dan Vitchoff describes Richmond's accelerated training as, 'training smart.' Despite not being able to prepare physically and on the range in the way he would have liked, Richmond always worked in time for the mental training routines developed for him by Vitchoff.
Richmond says his process is 90 percent mental and 10 percent physical. "I'm focused. In my sport you have to be focused." He relies on 'The 33 Method,' a mental relaxation and conditioning program Vitchoff developed specifically for professional and amateur athletes. Used by other successful Olympians, including USA Shooting Team Olympic Gold Medalists, Vincent Hancock and Walton Glenn Eller, as well as by professional hockey players, The 33 Method improves an athlete's ability to focus and concentrate during the grueling rigors of competition.
Dan Vitchoff explains, "Competitors feel tremendous stress when they find themselves competing against athletes they have idolized; knowing that they may have prepared their entire life for an event that could last only moments. Their sports mental training can become the edge that makes the difference."
Many of the techniques used at the PA Hypnosis Center by Dan Vitchoff have proven to be powerfully effective when used in situations outside of sports psychology and mental training for athletes. Vitchoff, Catherine (Catie) Dolgos, (a Certified Consulting Hypnotherapist and Fitness and Nutrition Specialist), and other staffers at Pittsburgh's PA Hypnosis Center, have demonstrated high rates of success with weight loss hypnosis, smoking cessation therapy, stress reduction, as well as with people who are dealing with Post Traumatic Stress Disorder, PTSD.
To hear Olympian Joshua Richmond discuss his mental training, go to: http://www.youtube.com/watch?v=s60TbW6xbN8
For media interviews with Dan Vitchoff MS Ed., CHt. Board Certified and Licensed Hypnotherapist, or for more information about the programs at the PA Hypnosis Center, please contact Catie Dolgos at (724) 934-8446 or go to http://www.pahypnosiscenter.com
###