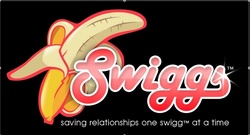 "Bringing a taboo subject matter to mainstream America may in fact upset some people, but it will help more than hurt."
Atlanta, GA (PRWEB) February 5, 2010
On February 4, 2010, Charlemagne Educational Marketing, LLC launched the release of Swiggs™ at http://www.swiggsandswizzles.com the very first live action/animated instructional video teaching both women and men the fine art of oral sex. Since many have produced dry, boring, and cricket-chirpingly- awkward styled sex education videos, Charlemagne decided to take a different approach. Addressing the need for a direct, informative, easy-to-watch instructional video on how to perform a "blow job," Swiggs supplies step-by-step techniques and ideas that are easy to understand, detailed, and effective. This is not a clinical video, nor is it pornographic. Swiggs uses real actors accompanied by animation for the necessary instructional aspects of the anatomy. Intended for a broad audience ranging from novices to the experienced, Swiggs mixes humor with abundant information to teach the various effective methods for success and to dispel some incorrect notions about what does or does not work. Making a taboo subject matter mainstream so that women don't have to fumble their way through the back pages of an adult magazine or on nefarious sites online, Swiggs delivers the information to mainstream America.
Charlemagne Educational Marketing, LLC was founded in 2009 in Atlanta, GA with the purpose of delivering high quality instructional sex education videos that would provide information without the use of nudity, yet keeping the viewer entertained and engaged, and eager to test their new knowledge. Charlemagne Educational Marketing LLC encourages the development of confidence when it comes to sex and communication in relationships.
"Swiggs," a term of endearment, affirms that the content is light, funny, informative, and clean enough to where your high school health teacher might be proud, maybe even your parents. Though an educational video, focus group audience provided feedback that the viewers found themselves "in the mood." Others focused on the educational aspects stating, "I cannot wait to go home and try this on my boyfriend," to "I did not realize how off my game I was." Our goal is to give the creative spice back to the viewer to raise the bar of confidence, well past conservative comfort levels.
Charlemagne, the production company's namesake, was an 8th-9th century conqueror who admired learning and education. His reign and the Carolingian Renaissance produced the growth of scholarship, literature, art, and architecture. Charlemagne was also Catholic. We hope he is proud of us, fighting repression, educating the masses and making couples happy.
###