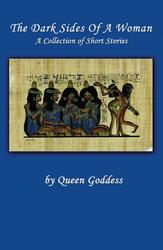 Whether they deal with deceit, rejection, humiliation, or controversy, [my book] shows how women call on their courage and strength to conquer these challenges
Miami, Fl (Vocus) September 28, 2010
Suffering is an inevitable part of the human experience, but throughout history, females in particular have faced their own set of unique hardships and hurdles. The trials and tribulations faced by women throughout time still resonate with modern-day gals coping with these same age-old issues. In her provocative new fiction, The Dark Sides of a Woman: A Collection of Short Stories (published by iUniverse) Queen Goddess shares the stories of 13 women learning valuable, often hard, always enlightening, life lessons.
The diversity of relationships is not ignored as Queen Goddess portrays heterosexual, bisexual, homosexual and interracial interactions, and how each comes with their own potential adversity. Each story introduces a different woman in her own unique relationship, and details the dark side she encounters.
Abuse, alcoholism, college life, independence, family conflict, trust, jealousy, religious tolerance and prostitution are just a few of the themes explored within The Dark Sides of a Woman. Realistic, modern settings and richly drawn characters draw the reader straight into the action as Queen Goddess expertly weaves tales that will resonate with readers from all walks of life.
Filled with passion and emotion, the moral lessons in The Dark Sides of a Woman take a candid look at the special challenges women face in their relationships. "Whether they deal with deceit, rejection, humiliation, or controversy, [my book] shows how women call on their courage and strength to conquer these challenges," Queen Goddess writes. Discover more in this enlightening new book.
About the Author
Queen Goddess has written for The Sketchbook 80, Urban America, Ebonix Communication, and Felon Magazine. She graduated from Hostos College in New York with a degree in liberal arts. She currently writes for Unity Press Newspaper in Miami and is a prolific writer, spoken word artist and thespian, and has performed with numerous bands and hip-hop artists. Queen Goddess currently resides in Miami and is the mother of two.
For more information, please visit http://www.thedarksidesofawoman.com.
iUniverse is a premier book publisher for emerging, self-published authors. For more information, please visit http://www.iuniverse.com.
###