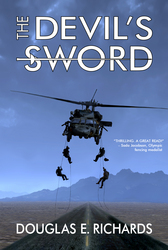 "Crisp, innovative, and intelligent. Should be at the top of your reading list." Larry Cox, book critic, King Features Syndicate.
New York, NY (PRWEB) November 3, 2010
Douglas E. Richards has done it again. Following closely on the heels of his hit middle grade series, The Prometheus Project, the former National Geographic KIDS magazine correspondent puts teenage heroes back in the spotlight with The Devil's Sword.
Kevin Taylor, Rachel Felder, and Ben Chang share a passion for fencing. While competing in a tournament at Nellis Air Force base in Nevada, the three friends stumble upon a plot by a ruthless team of mercenaries to steal The Devil's Sword," a satellite-based laser powerful enough to destroy entire cities or kill a single person with pinpoint accuracy.
"My mission was to write a mainstream thriller with heart, intelligence, and pulse-pounding action that would keep young readers racing through the pages," says Richards, a fencing expert known for writing novels that quickly hook boys, girls, and reluctant readers alike. "Kids love the sword fighting scenes in such blockbuster movies as Pirates of the Caribbean and Star Wars, but they love real sword fighting even more. This is why fencing is one of the fastest growing sports in America, with participants that include such superstars as Tom Cruise, Will Smith, and Angelina Jolie. Fencing forces competitors to think several moves ahead and make lightning fast decisions under pressure. In a battle for their very lives, my teen protagonists will need these skills—and more—to thwart a twisted plan to bring America to its knees."
While Richards' book are a hit with girls and adults, they have also been praised for their strong and immediate appeal to boys, who can be a more challenging audience to engage. With The Devil's Sword, Richards devises an intricate plot, ramps up the action to a fever pitch, and produces a novel that is truly unique. Not only is it a mainstream thriller for kids, which is a rarity, it provides a behind-the-scenes look at the fascinating world of competitive fencing. "The Devil's Sword is crisp, innovative, and intelligent," says Larry Cox, a book critic for King Features Syndicate. "This is a book that should be at the top of your reading list."
Douglas E. Richards has written extensively for National Geographic KIDS and American Fencing magazines. His Prometheus Project series has been called "perfect for middle grades," by Teaching K-8 magazine, is listed as "recommended literature" by the California Department of Education, and has been praised by Asimov's Science Fiction magazine, School Library Journal, Kirkus, and many others. In recognition of his work, Richards was selected to join Ray Bradbury, Stan Lee, and Rick Riordan at Comic-Con in San Diego this year, where he led a discussion on how to write can't-put-down thrillers with universal appeal. To learn more visit http://www.douglaserichards.com.
The Devil's Sword and the Prometheus Project series are available at all major booksellers.
###