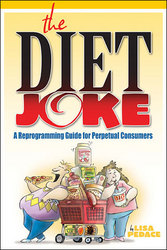 San Diego, CA (PRWEB) October 30, 2010
The Mom's Choice Awards® (MCA) has named The Diet Joke by Lisa Pedace a Gold Recipient in the category of Adult Books - Health, Nutrition, Fitness & Safety. The awards program recognizes authors, inventors, companies, parents, and others for their efforts in creating quality family-friendly media, products, and services.
The Diet Joke, Pedace's first book, is a laugh-out-loud, common-sense approach to better health. Filled with hilarious observations, sound advice, and simple reprogramming activities, The Diet Joke encourages readers to avoid the quick-fix and focus on making permanent lifestyle changes.
"I'm proud to be a Mom's Choice Awards® gold recipient. Moms play such an important role in the kinds of lifestyle decisions the whole family makes," said author Lisa Pedace. "Healthy lifestyles don't have to mean spending a lot of money on organic foods, diet plans, or expensive gym memberships. It's simply about making better choices."
According to Pedace, easy steps the whole family can take immediately to improve their health include skipping soda pop, reducing portion size, adding a fruit or vegetable to each meal, and taking a 30 minute walk each day.
"I think programs like The Biggest Loser send the wrong message about health. It says 'get active,' but then it shows grueling sessions in the gym with trainers yelling and contestants puking. It says 'eat healthy,' but then it has a cupcake elimination challenge where contestants have to scarf down cupcakes to win immunity. Everybody cries. It's all backwards to me."
Pedace, who's a comic and actress said, "I've been watching my weight for decades. I'm not vegan, I'm not carb-free, I don't spend all day in the gym. Every day I try to make good decisions, practice moderation, get some physical activity, and laugh a lot. That's what the book is all about."
The Diet Joke is published by Big Shot Press and retails for $14.95. For more information, visit thedietjoke.com.
About the Mom's Choice Awards®
Parents, educators, librarians and retailers rely on MCA evaluations when selecting quality materials for children and families. The Mom's Choice Awards® seal helps families and educators navigate the vast array of products and services and make informed decisions.
The MCA panel of judges includes education, media, and other experts as well as parents, children, librarians, performing artists, producers, medical and business professionals, authors, scientists and others who are bound by a strict code of ethics which ensures expert and objective analysis free from any manufacturer association.
For more information on the awards program and the honorees, visit MomsChoiceAwards.com.
###