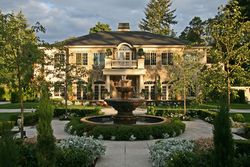 "We know there are benefits from people getting together face to face, but companies are also managing costs. As a result, we offer discount packages to attract Seattle area businesses who want to hold off-site events, locally."
Gig Harbor, Washington (PRWEB) December 22, 2009
Are corporate "Stay-cations" the new 2010 trend in corporate travel? With businesses still carefully managing money and increased public attention on environmental initiatives - more firms will be staying local in 2010 for their business functions according to several sources. Kensington Gardens (http://www.KensingtonGardens.com ) a local Seattle event venue is offering new package deals to capitalize on the corporate "stay-cation" movement.
Kensington Gardens' owner Kelly Watson says, "Our event bookings have increased over the last two years, but we are continually looking at new trends in our business. We know there are benefits from people getting together face to face, but companies are also managing costs. As a result, we offer discount packages in accommodations and transportation with our venue to attract Seattle area businesses who want to hold off-site events, locally." Victor Rodriquez's graphic design and communications business is a perfect example of the "stay-cation" mentality. "Each year, our firm does a retreat to celebrate the prior year's accomplishments and plan for the upcoming year. In the past, we've traveled to Denver and Austin. This year, while our business is doing well, we're being conservative and we'll be staying locally," says Victor Rodriguez, owner of Eurie Creative, whose company is located in Las Vegas.
Several reports indicate that Rodriquez's small business will have plenty of company in their plan to hold events nearby. According to Louise Revelas-Canham, owner and operator of A1 Luxury Hotels, an online travel agency, "While everyone seems to agree that face-to-face meetings will continue to remain fundamentally indispensable as the way of doing business, most notably with regard to client relationships, corporations will put the emphasis on managing trade and reducing travel. Even so, businesses will carefully study how they may obtain the greatest return on investment from travel, doing away with any needless or excessive business trips." Top Ten Business Travel Trends for 2010 by Carlson Wagonlit Travel in part underscores the emphasis on the environmental forces for holding events locally, "… clients will expect suppliers to be a driving force in finding "green" solutions. Ultimately, companies will aim to balance environmental concerns with financial imperatives, taking a holistic, sustainable approach to travel."
Kensington Gardens a 23 acre venue for weddings, celebrations and corporate events is located in picturesque Gig Harbor, Washington, and offers businesses a full array of audio visual equipment, flexible seating for presentations and meetings, and comfortably seats 140 for dining. Firms booking events will receive a package which combines discounts on both local hotels and transportation. Watson is banking on both the economic and environmental benefits as well as the lure of her unique private Gig Harbor location to draw Puget Sound businesses in 2010. "We feel 2010 will continue to be a good year for us as more Seattle area companies look to local venues for their off-site conferences, meetings and training," says Watson.
About Kensington Gardens - Kensington Gardens is Western Washington's finest wedding and event venue. Completed in 2007 the European Manor style venue offers both charm and a private location with manicured lawns, fragrant gardens and graceful fountains in addition to the latest audio visual amenities and a ballroom with seating for 140. The creation of Kelly Watson whose European travels combined with her interior design background and love of gardening, Kensington Gardens sits on 23 acres of private lush woods. Kensington Gardens 3804 Olson Drive NW, Gig Harbor WA, is the perfect venue for weddings, celebrations and corporate events.
For more information see: http://www.KensingtonGardens.com.
###