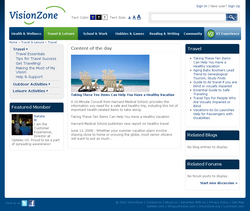 "When someone is diagnosed with a retinal eye disease such as age-related macular degeneration or diabetic retinopathy, many times they and their families are desperately searching for support. VisionZone is their long-awaited answer."
San Diego (PRWEB) April 1, 2010
VisionZone, a nationwide movement to promote ocular health awareness, spearheaded by Optelec U.S. Inc., a world leader in innovative and life changing assistive technologies for the blind and visually impaired, today launched its online component, VisionZone.org. The VisionZone initiative is the low vision community's first live and virtual eye-health resource designed to bridge the gap between eye disease, prevention, awareness and product solutions.
"VisionZone is just starting out, so the more people contribute the better it will become," said Brian Fischler, 37, a nationally recognized, legally blind stand-up comedian and Founder of Laugh for Sight not-for-profit who was diagnosed with Retinitis Pigmentosa at age 12. "This is a remarkable venture for those with visual impairment, as it offers advice for people with low vision in all walks of life. VisionZone spreads awareness and helps people in similar circumstances connect – something that many of us in the visually impaired world have been lacking for years."
Now professionals, businesses, associations, health specialists, non-profits, and the visually impaired can relate both in-person (VisionZone Live) and virtually (VisionZone.org). With VisionZone's "Connect. Learn. Live. You're Not Alone Anymore" slogan, it enables knowledge to be shared through a blended, interactive experience with the objective of combating eye diseases, creating a centralized social networking community, and amplifying low vision awareness through one platform.
"Everyday we change lives through Optelec's innovative assistive technologies, and VisionZone makes not only ours, but other useful solutions such as fitness routines, nutritional tips, and low vision-friendly travel amenities easily accessible," said Andre Hardy, president of Optelec U.S. Inc. "When someone is diagnosed with a retinal eye disease such as age-related macular degeneration or diabetic retinopathy, many times they and their families are desperately searching for support. VisionZone is their long-awaited answer."
Through this groundbreaking public awareness movement, VisionZone allows visitors to experience a variety of educational resources for activities, products and services based on the themes of Health & Wellness, Travel & Leisure, School & Work, Hobbies & Games, Reading & Writing, and Community. VisionZone will uniquely pair those seeking involvement and those who are already an active part of the low vision industry.
"We chose to unite our forces with Optelec to further endorse the much-needed VisionZone initiative," said Stephanie Wells, director of development for the Foundation Fighting Blindness. "As an organization that raises funds for retinal degenerative diseases, we have thousands of members who will benefit from learning tips that can easily be integrated into their daily routines."
VisionZone.org
By going online, visitors will find a wealth of information including articles on vision health, open discussion forums, and a user-generated networking community designed to connect members for free. VisionZone members can create their own unique social networking profile, sign-up to participate in local events, read influential blogs bylined by health specialists, as well as write their own content.
VisionZone Live
In 2010, VisionZone Live, a cross-country tented mobile tour, will travel to select cities throughout the United States in conjunction with the Foundation Fighting Blindness signature fundraising event called VisionWalk. VisionWalk was created to raise funds for retinal degenerative diseases VisionZone Live offers a variety of demonstrations and exhibits from national and local partners.
Key components include a low vision simulation: friends, family and peers of those who are visually impaired have the opportunity to "touch and feel" with sight-reduced goggles that simulate a variety of various eye diseases such as age-related macular degeneration, retinitis pigmentosa, and diabetic retinopathy. In addition, participants will have access to a wide range of leading industry assistive technology and daily living aids that can help low vision users at school, on-the-go, at home or at work.
For more information visit http://www.VisionZone.org or call 800-335-7970. Follow daily updates via @VisionZoneOrg on Twitter, Facebook and YouTube.
About VisionZone
"Connect. Learn. Live. You're Not Alone Anymore." VisionZone is the low vision community's first live and virtual eye-health resource designed to bridge the gap between eye disease, prevention, awareness and product solutions. VisionZone Live and VisionZone.org connect the eye care, visually impaired and caretaker communities through a blended interactive experience and major corporate and non-profit partners, including Optelec U.S. Inc., which is spearheading the movement. Visit http://www.VisionZone.org for more information.
###